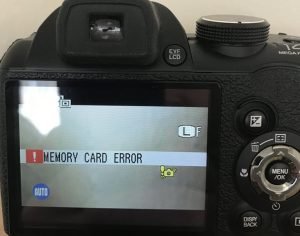 Most digital cameras rely on SD memory cards to store the images and videos they take but what happens when the memory card stops working?
Secure Digital memory cards are an inexpensive storage medium that are very easy to use but what most users aren't aware of is that they will eventually stop working. Unlike many mechanical hard disk failures that can manifest with an obvious noise or sign, SD cards due to their nature do not flag as failed by clicking or making another problematic noise.
They can however show that they have failed in other ways, when used in cameras or even phones the device will give a message to advise the user that there is a problem. As with the image here the camera shows there is a fault with the memory card itself, or in other devices or computers it may show that the card needs formatting.
When this does happen, there is in most cases only one way of getting the lost data back. SD cards use nand chips which are a silicon chips designed for high speed storage, these chips require an additional chip called a controller to dictate how the data is stored and processed. More often than not the controller is the component that has failed preventing access to the data in the nand chips.
The real secret to be able to regain access to the data is to essentially replicate the actions of the failed controller after reading the data directly off of the nand chip or chips, the number being relating to the capacity of the device. Referred to simply as a nand read. For recoveries such as this if you are in need of these services please contact our sales team on 0800 999 3282 or email [email protected]
What Does a REAL Data Recovery Lab Look Like?