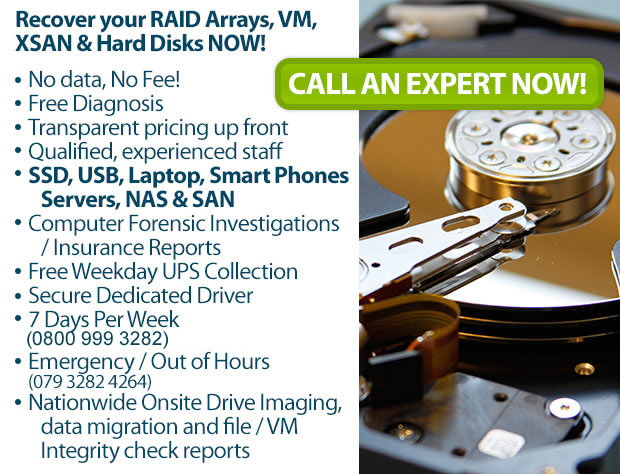 Hard Drive & Data Recovery Services in Coventry
Need emergency data recovery in Coventry? We can collect failed storage device within 60 minutes of your call and have your data recovered and back to you within 6-12 hours.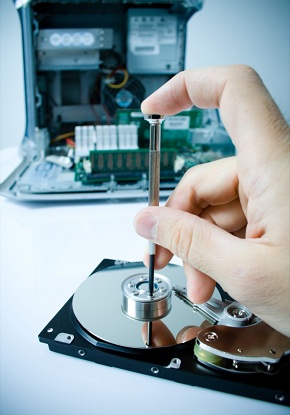 Coventry based businesses and individuals can rest easy in the face of data loss disaster as the Data Recovery Hospital is ready to receive any and all devices in need of vital recovery services. Whatever the nature of your data loss emergency, we're here to put it right.
With our access to world-class clean room facilities, expert engineers with decades of combined experience and cutting edge data recovery techniques, you can rely on us to restore your lost data to you. If we can't, we won't charge you a penny. That's our "no fix, no fee" guarantee.



Coventry Based Data Recovery Services
Hard Drive Recovery Coventry: As the variety and sophistication of hard drives for both home and business computers increases, we strive to keep ourselves on the bleeding edge of data recovery services in order to provide our clients with the peace of mind of knowing that should their system fail, they have someone to turn to.
External Device Recovery: Along with PC and Mac hard drive recovery services, we also restore data lost to a variety of external devices including USB memory sticks and external hard drives. By nature of their portability, these devices can suffer physical damage more easily as they are more likely to be dropped or knocked around.
RAID Recovery Coventry: In the event that your RAID server bombs out on you at the worst possible time, we're on call 7 days a week in order to provide you with RAID recovery services. We have the right experts, tools and facilities to make sure that your turnaround time form problem to solution is as short as possible. We aim to have most RAID recovery situations solved in less than 24 hours.
Photo card recovery (SD, CF etc)
Restoring VM/Virtual machines
Server recovery (Unix , Windows, Linux, AppleMac, Sco etc)
Laptop recovery (Notebook, Netbook, MacBook)
SAN, XSAN and NAS (onsite support where appropriate)
Database, Email, Video and Sound / Music file recovery.
Computer forensics Investigation Reports and Evidence Capture.
Contact us for free diagnosis of your problem as well as information on how we can get you back your data, no matter how it was lost.
The DRH team is here to help. We take great pride in achieving the highest levels of success rates first time every time. We take care of your data, through all stages of the recovery process.



My Sata hard drive crashed without warning and I sent it to R3 Data Recovery. They dealt with it swiftly and sent me a full list of all the files on the drive and then supplied a new drive with all my data on it – a very professional service and complete recovery of my data – I'm very pleased with the service.
Adrian Deacon

I recently used R3 Data Recovery to recover some highly valuable and personal photos and videos from an external hard drive which hadn't been is use for almost 5 years after being dropped on the floor while in use. The drive will power on but was completely undetectable. The quoted price was £299+VAT, or £549+VAT if a "rebuild" is required. I was mentally prepared to pay the £549, which was still two to four times cheaper than the quotes I had a couple of years ago. Upon receiving the file list from R3, I was delighted to know that they were able to recover almost each and everything on the drive (over 100GB) without a rebuild; my files were of course there as well. Two working days after the payment was made (£341.00), I received a replacement drive via UPS with all the data. The communication has been excellent on part of Andy and Mike, with most of my emails answered literally within minutes; keeping me updated with the progress. Overall, I would highly recommend R3 Data Recovery for their excellent low cost service, helpfulness and professionalism.
Ranaadnanm

I contacted R3 at the weekend and they immediately put my mind at rest by scoping the works over the phone and issuing a good prognosis.
The drive (iMac) was collected the same day late at night 23:00 as an operative was returning to base from another job and was 'almost' passing my door.
All my important data was recovered to a USB drive within the week and returned to me.
Excellent service, which, whilst not a great technical achievement for R3 (I'm sure they can crack harder problems) it saved my day, they delivered what they said they would on time and on budget. You cannot ask for more than that. I can thoroughly recommend their services.
Robert Wardell

Next: Belfast



What Does a REAL Data Recovery Lab Look Like?