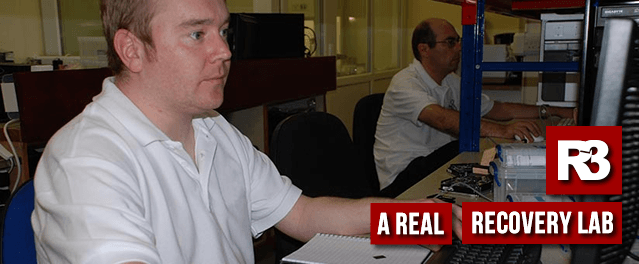 Find Your Local Data Recovery Hospital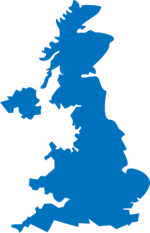 We can have a CRB checked driver at your door within 60 minutes anywhere in the UK for emwergency and priority services.
UPS collection is free on standard work but also the emergency courier service can be used to get your storage device to us safely and more quickly than standard courier and postal services.
Data Recovery Hospital is extremely focused on maximising the prospects of a full data recovery in all circumstances; in pratctical terms, this requires the use of highly skilled data recovery engineers in state-of-the-art data recovery facilities.
We also strive to offer a great value 'no data, no fee' pricing policy, with free diagnosis.
Obviously, it's not possible to locate specialist data recovery experts in high tech data recovery facilities in high streets all over the country and keep the cost down at the same time.
Our solution has been to create one superbly equipped centre of data recovery excellence in the middle of the country, staff it with a fantastic team, and offer easy options for our clients to get their failed media devices to us in a fast, secure manner.
For most clients, this involves taking advantage of our complementary courier service where we dispatch a courier to pick up the device from a location specified by them, and return it in the same way when recovery has been successful.
We also offer a device drop-in service for people who prefer it at the following locations.
Whichever solution you'd prefer, please contact us now for a free diagnosis by phone or email.

Choose your location
Data Recovery Sheffield

204b Royds Mill, Windsor Street, Sheffield S4 7WB
Tel: 0114 4081282

Data Recovery London

London Data Recovery Hospital
121 Charing Cross Road, London. WC2H 0BP
Tel: 0203 3940082
Central London
353 Regis Road, Kentish Town, London, NW5 3UP
West London
Central Way, Atlas House, Feltham, ,Middlesex, TW14 0UZ
Croydon
Beddington Lane, Prologis Park,Unit C, Croydon, CR0 4TD
Barking
3-5 Thames Road, Barking, Essex, IG11 0HB0HB
Data Recovery Bristol

6 Cotham Hill, Bristol. BS6 6LF
Tel: 0117 2591282

Data Recovery Manchester

22 Bury Old Road, Manchester. M8 5DR
Tel: 0161 2073282

Data Recovery Birmingham

Jim Casey Way, Birch Coppice Business Park, Tamworth, B78 1BF
Tel: 0121 4011282

Data Recovery South East

Watford
St. Albans Road, Odams Trading Estate, Watford, Hertfordshire, WD24 7RY
Tel: 0192 3559282
Luton
Unit 7, Cosgrove Way, Luton, Bedfordshire, LU1 1XL
Tel: 0158 2258282
Dartford
Riverside Way, Riverside Industrial Estate, Dartford, DA1 5BS
Tel: 0132 2903282
Gatwick
Manor Royal, Crawley Industrial Estate, Crawley, West Sussex, RH10 9PY
Reading
100 Cardiff Road, Reading, Berkshire, RG1 8HW
Tel: 0118 4181282
Chelmsford
Westway, Widford, Chelmsford, Essex, CM1 3BQ
Tel: 0124 5925282
Newhaven
Avis Way, Unit D Hawthorne Estate, Newhaven, East Sussex, BN9 0DP
Northampton
Lower Farm Road, Moulton Park Industrial Estate, Northampton, NN3 6XF
Tel: 0160 4556282
Southampton
Unit 41 Parham Drive, Boyatt Industrial Estate, Eastleigh, SO50 4NU
Tel: 0238 1661282
Data Recovery Midlands

Nottingham
Palmer Drive, Bessell Lane, Nottingham, Nottinghamshire, NG9 7BW
Tel: 0115 7401282
Derby
Birchwood Way, Cotes Park Industrial Estate, Alfreton, DE55 4QQ
Tel: 0133 2581282
Abingdon
95 Milton Park Industrial Estate, Abingdon, Oxfordshire, OX14 4RZ
Tel: 0123 5375282
Gloucester
Hurricane Road, Gloucester, GL3 4AQ
Tel: 0145 2642282
Data Recovery East Anglia

Bury St Edmunds
Mildenhall Road, Bury St Edmunds, Suffolk, IP32 6EH
Norwich
48 Hurricane Way, Norwich, Norfolk, NR6 6JB
Tel: 0160 3520282
Data Recovery West and Wales

Bristol
Farendell Road, Emerald Park East, Bristol, BS16 7FF
Tel: 0117 2591282
Exeter
7-17 Marsh Green Road North, Marsh Barton Trading Estate, Exeter, EX2 8NY
Tel: 0139 2956282
Swansea
Park Avenue, Skewen, Neath, SA10 6RA
Tel: 0179 2909282
Cardiff
Pengram Road, Unit B Saint Catherine's Business Park, Tremorfa, CF24 2RZ
Tel: 0292 1971282
Avonmouth
Fifth Way, Avonmouth Trading Estate, Bristol, BS11 8DT
Bodmin
Carminow Industrial Estate, Carminow Road, Bodmin, PL31 1EP
Data Recovery North East

Leeds
Richardshaw Lane, Hanson Distribution Centre, Grangefield Rd Ie, Leeds, LS28 6QP
Tel: 0113 4001282
Rotherham
Unit 4 Lowton Way, Hellaby Industrial Estate, Hellaby, S66 8RY
Tel: 0170 9610282
Deeside
Unit 111, Tenth Avenue, Zone 3, Deeside Industrial Estate, Deeside, CH5 2UA
Lincoln
Deacon Road, Lincoln, Lincoln, LN2 4JB
Tel: 0170 9610282
Dewsbury
Mill Street East, Kings Mill, Dewsbury, Yorkshire, WF12 9AP
Gateshead
Off Eastern Avenue, (Brs Complex), Gateshead, NE11 0UX
Sedgefield
Salters Lane Industrial Estate, Sedgefield, Stockton On Tees, Cleveland, TS21 3EE
Data Recovery North West

Salford
Darby Road, Northbank Industrial Estate, Manchester, Lancashire, M44 5BP
Cheshire
The Tileries, North Rode, Congleton, Cheshire, CW12 2PR
Stoke
Scotia Road, Scotia Business Park, Tunstall, Staffordshire, ST6 4HG
Lancashire
Tomlinson Road, Leyland, Lancashire, PR25 2DS
Carlisle
Kingmoor Park Road, Unit K Kingmoor Central, Carlisle, Cumbria, CA6 4SD
Tel: 0122 8900282
Scotland Data Recovery

Glasgow
Westfield Road, Newhouse Industrial Estate, Motherwell, ML1 5SQ
Tel: 0141 2971282
Edinburgh
30 Southgyle Cresent, Southgyle Industrial Estate, Edinburgh, Scotland, EH12 9EB
Tel: 0131 2151282
Dundee
Nobel Road, Unit 10a Westfield Gourdie Industrial Estate, Dundee, Scotland, DD2 4UH
Tel: 0138 2680282
Cumbernauld
Unit 2 Deerdykes Place, Westfield Industrial Area, Cumbernauld, Scotland, G68 9HE
Tel: 0123 6321282
Inverness
16a Dalcross Industrial Estate, Inverness, IV2 7XB
Tel: 0146 3544282
Northern Ireland Data Recovery

Belfast
3 Cloughmore Road, Mallusk Industrial Estate, Newtonabbey, BT36 4WW
Tel: 0289 5531282
Next:
London

What Does a REAL Data Recovery Lab Look Like?