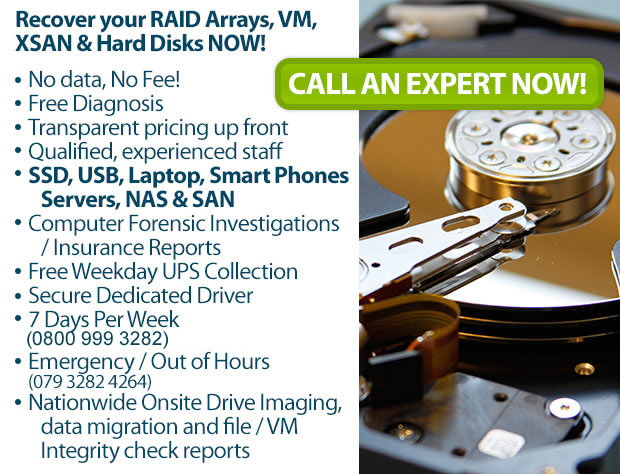 Hard Drive & Data Recovery Services in Derby
Due to our long standing service in helping Derby based businesses and individuals who have been in need of rapid assistance to solve their data loss nightmares, we're acutely aware of how people in the area often need data recovery fast. To this end we ensure that our customers can reach us 7 days a week and we are able to respond to a request and provide data recovery services within 24 hours.
If you need an immediate response to a data loss emergency, then why not check out our emergency page to see which of our recovery centres is closest to you. You can bring in your problematic device directly to any of our centres without an appointment and our engineers can perform a free diagnostic service for you then and there to determine the extent of the issue.

Derby Data Loss Solved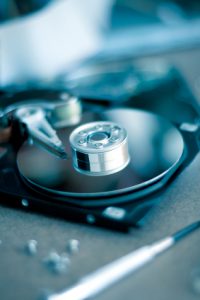 RAID Recovery Derby

: We understand that businesses can suffer immense financial pressure if sensitive data is compromised, corrupted or lost. Therefore, to minimise the damage caused by serious RAID system failure, we are on call every day of the week in order to take your call and respond as quickly as possible. Depending on the viability of the circumstances, our engineers can send a response team to your location for an onsite recovery or you can mail your RAID system to the closest Data Recovery Hospital centre.

Hard Drive Recovery Derby

: You cover the full range of major hard drive manufacturers and can perform data recovery services on all widely used brands of hard disc drive. Our engineers have extensive experience in restoring lost or corrupted data to hard drives that have undergone some sort of mechanical or logical failure.

External Devices

: Along with the full gamut of hard drives, we can also help you with any problems you may be experiencing with an external device such as a camera memory card, a USB memory stick, an external hard drive and so on.
Contact us on our dedicated Derby data recovery support number, 0133 258 1282 for further information on exactly how we can help.
We will guide you through every step of the way, from the first phone call we will offer our opinions / advice and quickly identify the data loss cause and the best way to restore your data to you.



My WD passport hard drive stopped working about 6 months ago and with plenty of precious memories on there (over 17,000 videos and photos of my daughter etc) I was desperate to get them back! R3 provided a fast and efficient service and were able to salvage about 95% of my hard drive! When I got the news I was over the moon, the price is a little expensive but then my theory was you cant put a price on your memories and I will not make the mistake again of only having one back up on the go!
Jessica Lewis, Princes Risborough

The team at R3 could not have been more helpful and gave me a lot of their time to sort out my catastrophic disk collapse. Only problem for me was that I had so many files to be recovered some in Lotus software and they did what they could, I had to spend time recognising the data sent back but without their help, I would have had a massive financial problem with client accounts. A thoroughly secure, professional and worthwhile service.
Michael Somers, South Croydon

I had an external 500GB external hard drive which could not access which was filled with data. I sent it to a place in Pall Mall London and was flabberghasted when they said they would charge around 490 pounds to recover data and they would not let me spread out the cost of paying for it and than charged around 20 pounds to return drive to me. I then tried R3 Data recovery and they eventually emailed me that the cost would be 240 pound which they would let me pay of in installemeants. This was half the price that the place in Pall Mall said. Did not keep a record of what was on disc but it seems to have everything that was on broken disc (I sent another hard drive which they transferred the dats to). The only niggles were that I could not access their site to find out what data had been recovered as I use an apple mac but I think they are going to have a mac accessible site in the future. The only other niggle was that they did not let me know when the disc had been posted back and by whom and when I should be in to answer the door but I just happened to ring to find out but I think they could not give me the time of day it would be delivered so I was out but got it next day but had to wait in a long time to be in for it. I write poetry and have been published and also have a fine art degree so a lot of the data on the disc is unreplacable and I did not have another copy. So I was very gratefull that they appeared to get back all the poems and photos and art related stuff. I have another disc which is broken so plan to use them again. Thanks very much R3 staff!
Richard Atkinson, Newcastle upon Tyne


What Does a REAL Data Recovery Lab Look Like?