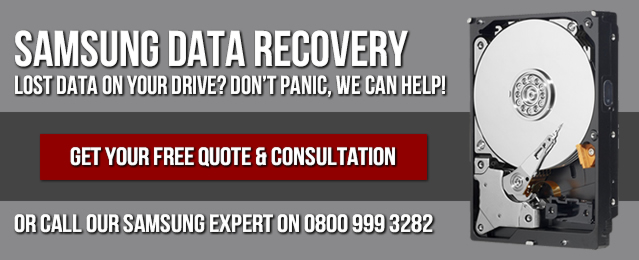 Data Recovery Services For Samsung Hard Drives, SSDs and Laptops
Our specialist knowledge in recovering data from Samsung disks and world-class facilities mean that we offer you the best possible chance of recovering data from any model of Samsung hard drive; regardless of whether its internal to a laptop / desktop, or is housed in a external hard drive.
Our team of specialist Samsung data recovery engineers has extensive experience with all Samsung hard drives models. They can quickly diagnose faults during a free telephone consultation and will then provide an extremely competitive, fixed price quote with no obligation.
If you'd like to take advantage of this service, please call now on freephone 0800 999 3282. Alternatively, take advantage of our online quote service by completing the form on the right.

Causes of Samsung Hard Disk Failures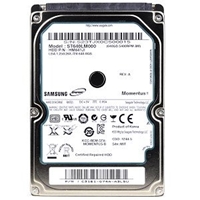 There are a number of common problems that cause data loss within all makes and models of hard drive. For a detailed list of the symptoms you are likely to witness and the actions that will be required to recover the data, please visit our hard disk failure section.
Regardless of the cause of the problem with your Samsung hard disk, or the model involved, we have the facilities, team, and tools and techniques required to maximise the likelihood of a successful data recovery. Some of the more recent problems we have recovered data from, are listed below.
If your Samsung hard drive exhibits any of these, or indeed any other symptoms, please shut the device down as quickly as possible to avoid causing any further damage; then contact us immediately for a free quote and diagnostics service.
Samsung hard drive fails to spin up after repeated attempts.
Samsung hard disk makes either continuous or repetitive clicking noises while trying to spin up.
Samsung hard drive not recognised by the BIOS when drive spins up.
Samsung hard disk suddenly seizes and fails to be recognised by the BIOS.
Samsung hard drive emits erratic whining sounds that indicate the onset of motor failure.
Samsung hard disk runs slowly and makes regular ticking sound when starting up.
Samsung Data Recovery Services
If you have a problem and need to recover data from a faulty Samsung hard drive, then you couldn't be in safer hands. Some of the more recent models released by Samsung include:
Spinpoint M MP0402H 40GB 5400 RPM Notebook Hard Drive
SpinPoint M40 Series HM040HI 40GB 5400 RPM Notebook Hard Drive
SpinPoint M40 Series HM080JI 80GB 5400 RPM Notebook Hard Drive
SpinPoint M40 Series HM060II 60GB 5400 RPM Notebook Hard Drive
SpinPoint P80SD SP1604N 160GB 7200 RPM IDE Ultra ATA133
SpinPoint P80SD HD040GJ 40GB 7200 RPM SATA 3.0Gb/s
SpinPoint P80 Series SP1614N 160GB 7200 RPM IDE Ultra ATA133
SpinPoint P Series SP2514N 250GB 7200 RPM IDE Ultra ATA133
SpinPoint P Series SP0411N 40GB 7200 RPM IDE Ultra ATA133
SpinPoint P Series HD160JJ 160GB 7200 RPM SATA 3.0Gb/s
SpinPoint P120 SATA drives
SpinPoint PL series drives
SpinPoint V series drives
SunPoint series drives
Whatever the issue, our team is your best bet to get your systems back on track in as little as 24 hours. In addition, if your data proves to be unrecoverable, you will not be charged at all for our services. A strict "no fix, no charge" policy applies to Samsung data recovery and our complete range of services, regardless of the format or brand involved.
Fast response to my data loss problem. Damaged disc collected within 2 hours of speaking to Andy. Kept informed of progress without prompts. All data recovered within 48 hours. Excellent service – would recommend without hesitation.
John Denton
Through stupidity I hadn't backed up my photographs on a second external hard drive for over 2 years. R3 did a highly professional job of collecting, recovering and returning the new and damaged hard drives. Their communications were excellent and exceedingly prompt. They were able to recover 100% of the files and I received the new hard drive within a week of my initial telephone call. Although I will, obviously, prevent this situation happening again, if it were to arise I would have to seriously question whether or not I could justify the expense for what were basically images of holidays, family occasions and my hobby of wildlife photography. Having said that I'm very glad I had the option.
John Denton
Fantastic service, managed to recover all of my data from my HDD. Working in Professional Sport my hard drive is very important to me and was full of videos from the previous season and was very vital to me and our club that we retrived this data. After speaking with R3 Data i was confident enough that they woud be able to do it. Prices are very good was quoted much higher than R3 Data and a much longer turn around time so was very pleased.
Thank you!
Phillip Hudson
*Data Recovery Hospital is a Trading Name of R3 Data Recovery Ltd Since 01/03/2012

Recovering data From All Hard Disk Models Such As..

Samsung Families

EcoGreen F DT
SpinPoint F1
Spinpoint F DT
Spinpoint T
Spinpoint S
Spinpoint P
SpinPoint T
SpinPoint S
SpinPoint N
SpinPoint M
SpinPoint P
SpinPoint V
SpinPoint M40
SpinPoint P120 SATA
SpinPoint P40
SpinPoint P80
SpinPoint P80SD
SpinPoint PL40
SpinPoint V120CE
SpinPoint V60
SpinPoint V80
VOYAGER 11P
VICTOR (V40)
PUMA (P40)
VICTORPLUS (V40P)
VERNA (V60)
VANGO (VL40)
VANGOPLUS (VL40P)
PANGO (PL40, PL40S)
VELOCE (V80, V80P, V80PL)
PALO (P80, P80VE, P80P, P80PL, P80S)
RUBICON (P80H, P80VA)
P80A
POSEIDON(P120, P120S)
DELPHI(P80SD)
CAESAR(P80VEM)
P80M
TRIDENT(T133, T133S)
F1_3D
Samsung Models for SATA/IDE/SATA II/SERIAL ATA/PATA LBA Desktop Drives
SP0211H
SP0211N
SP0221N
SP0311H
SP0311N
SP0401H
SP0401N
SP0411C
SP0411N
SP0431N
SP0441N
SP0451N
SP0612N
SP0802N
SP0812C
SP0812N
SP0822N
SP0832N
SP0842N
SP1202N
SP1203N
SP1212N
SP1213C
SP1213N
SP1223N
SP1233N
SP1243N
SP1253N
SP1603C
SP1603N
SP1604N
SP1613N
SP1614C
SP1614N
SP1624N
SP1634N
SP1644N
SP1654N
SP2001H
SP2002H
SP2004C
SP2004N
SP2014N
SP20A1H
SP2504C
SP2504N
SP2514N
SP3003H
SP4002H
SP4004H
SP40A2H
SP6003H
SP60A3H
SP8004H
SP80A4H
SV0211H
SV0211N
SV0221H
SV0221N
SV0301H
SV0311H
SV0401H
SV0401N
SV0411N
SV0412H
SV0602H
SV0612N
SV0802H
SV0802N
SV0813H
SV0823H
SV1203N
SV1204H
SV1604N
SV2001H
SV2002H
SV2042D
SV2042H
SV2043D
SV2044D
SV2046D
SV3002H
SV3002H
SV3063D
SV3063H
SV3064D
SV4002H
SV4003H
SV4012H
SV4084D
SV4084H
SV6003H
SV6004H
SV8004H
HA101UJ
HA161HJ
HA200JC
HA250HJ
HA250JC
HA251HJ
HA321HJ
HA501IJ
HA751LJ
HD041GJ
HD042GJ
HD080GJ
HD080HJ
HD081GJ
HD082GJ
HD102UJ
HD103UI
HD103UJ
HD120HJ
HD120IJ
HD160HJ
HD160JJ
HD161GJ
HD161HJ
HD162GJ
HD162HJ
HD200HJ
HD250HJ
HD250KD
HD250KJ
HD251HJ
HD251KJ
HD252HI
HD252HJ
HD252KJ
HD300JJ
HD300LD
HD300LJ
HD301JJ
HD320JJ
HD320KJ
HD320LD
HD320LJ
HD321JJ
HD321KJ
HD321LJ
HD322HI
HD322HJ
HD400LD
HD400LJ
HD401LJ
HD402LJ
HD403LJ
HD500LJ
HD501IJ
HD501LJ
HD502IJ
HD502JI
HD642JI
HD642JJ
HD752LJ
HD753LI
HD753LJ
HE103UJ
HE322HJ
HE502IJ
HE753LJ
Samsung EcoGreen F2EG (5400RPM, SATA-300 interface)
HD502HI 500GB
HD102SI 1TB
HD103SI 1TB
HD153UI 1.5TB
HD154UI 1.5TB
Samsung SpinPoint F3 (7200RPM, SATA-300 interface)
HD164GJ 160GB
HD163GJ 160GB
HD254GJ 250GB
HD253GJ 250GB
HD323HJ 320GB
HD502HJ 500GB
Samsung EcoGreen F3EG (5400RPM, SATA-300 interface)
HD253GI 250GB
HD324HI 320GB
HD503HI 500GB
HD754JI 750GB
HD105SI 1TB
HD203WI 2TB
Samsung EcoGreen F4EG (5400RPM, SATA-300 interface)
Samsung Models for SATA/IDE/SATA II/SERIAL ATA/PATA Laptop / Notebook / Mobile 2.5″ Drives
MP0402H
MP0603H
MP0804H
HM020GC
HM021GI
HM030GC
HM030GI
HM040GC
HM040GI
HM040HC
HM040HI
HM041HI
HM042HI
HM060HC
HM060HI
HM060II
HM061GI
HM061HC
HM061HI
HM062HI
HM080GI
HM080HC
HM080HI
HM080IC
HM080II
HM080JI
HM081II
HM100IC
HM100II
HM100JC
HM100JI
HM101JI
HM120IC
HM120II
HM120JC
HM120JI
HM121HI
HM121JI
HM160HI
HM160JC
HM160JI
HM250JI
Samsung Models for Laptop / Notebook / Mobile 1.5″ Drives
HS030GB
HS031GA
HS040HB
HS041HA
HS04THB
HS060HB
HS061HA
HS06THB
HS080HA
HS080HB
HS081HA
HS082HB
HS08XJC
HS10TJB
HS10XJC-M
HS120JB
HS122JB
HS122JC
HS160JB 160GB
HS04VHF 40GB
HS06VHF 60GB
HS08VHF 80GB
HS12VJF 120GB
HS16VJF 160GB
HS06YHA 60GB
HS08YHA 80GB
HS12YHA 120GB
HS12UHE 120GB
HS122HZ 120GB
HS20YJZ 200GB
HS250JI 250GB
HS25YJZ 250GB

Next: Seagate



What Does a REAL Data Recovery Lab Look Like?