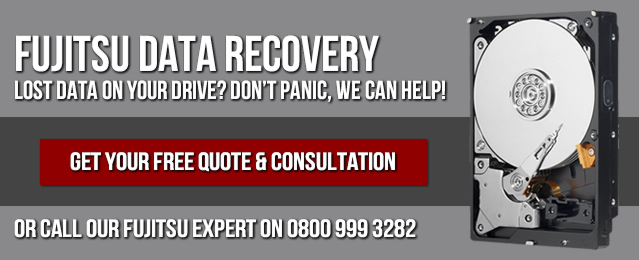 Data Recovery Services For Fujitsu Hard Drives, Computers, Laptops and Servers
Whatever problem your Fujitsu hard drive suffers, we have the technical expertise and facilities to get it fixed and have your critical data returned to you in a timely fashion. We're available 7 days a week to make sure that we can provide you with data recovery solutions for Fujitsu hard drives within 24 hours.
Contact us for a free diagnosis of your hard drive issue to see how we can help you get your data back as quickly as possible.
Causes of Data Loss in Fujitsu Computers, Laptops and Servers
While hard drives are generally very robust and can be relied upon to last through many years of operation, they can suffer from wear and tear like any mechanical device. Similarly, non-mechanical problems can occur with your software causing your Fujitsu hard drive to lose access to data.
The four main categories of hard drive failure are: mechanical, logical, electronic and firmware. For more information on exactly how these issues are caused, visit our hard disk failure section.
Common Symptoms of Fujitsu Hard Drive Failure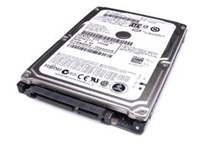 While Fujitsu hard drives have a solid reliability track record, they can still suffer the same kinds of failures as other brands. From our extensive experience in solving data loss issues with Fujitsu hard drives we've compiled a number of common symptoms identified by our clients. We have the right solution for any problem that can occur after encountering the following symptoms:
Fujitsu hard drive won't spin up after PC is powered on.
Fujitsu hard drive not recognised by the BIOS.
Fujitsu hard drive makes high pitched whining sound either when spinning up or during normal operation.
Fujitsu hard drive fails to access files.
Fujitsu Drive and Notebook Recovery Services We Are Good At
Mechanical Hard Drive Failures
Head Crash Causing Platter Damage
Physical Damage From Fire or Flood
Accidental File Deletion from Human Error
Physically Damaged and Dropped Laptops
Deleted Files and Partitions
Disk Reformatting
File Overwrites
Laptop Data Recovery
Blue Screen Of Death
If your Fujitsu hard drive exhibits any of the symptoms listed above, or any other signs of hard drive failure then we recommend that you contact us right away to assess the extent of the problem before trying to attempt any repair yourself. Without the correct tools, facilities and expertise, it is possible to make a data loss issue worse by making such an attempt.
Our technicians have provided recovery solutions for numerous Fujitsu customers and restored their important data to them in as little as 24 hours.
We also operate a "no fix, no fee" policy, so in the unlikely event that your data proves to be unrecoverable, we won't charge you a thing.

The drive was fixed very quickly. When I had problems using the viewer I called and the technician was able answer my questions clearly and quickly. The data was all in order on my drive as promised. The only thing I wasn't informed about was the state of the data on the drive. I didn't know that there wouldn't be an Operating System on the drive until I received it. It would be good to have more information about that and perhaps a little bit of advice on how to use the drive without one. Thank you.
Charmaine Gilbert
Excellent service, very helpful they went out of their way to assist us and quickly recovered our lost data. Would definitely use them again.
XPERT ENERGY INSTALLATIONS LTD
Extremely fast turnaround and professional service. they recovered alot of data that was thought to unrecoverable. i definitely recommend this company to anyone who has lost their data.
Chris Dornan
*Data Recovery Hospital is a Trading Name of R3 Data Recovery Ltd Since 01/03/2012

Recovering data From All Hard Drive Models Such As
Fujitsu IDE / 3.5″ PC Drives
MPA3008AT
MPA3017AT
MPA3026AT
MPA3035AT
MPA3043AT
MPA3052AT
MPB3010AT
MPB3021AT
MPB3032AT
MPB3043AT
MPB3052AT
MPB3064AT
MPC3016AT
MPC3032AT
MPC3043AT
MPC3064AT
MPC3081AT
MPC3096AT
MPD3021AT
MPD3043AT
MPD3064AT
MPD3084AT
MPD3108AT
MPD3130AT
MPD3144AT
MPD3173AT
MPD3023AH

MPD3045AH
MPD3068AH
MPD3091AH
MPD3102AH
MPD3137AH
MPD3144AH
MPD3182AH
MPE3032AT
MPE3064AT
MPE3102AT
MPE3136AT
MPE3170AT
MPE3204AT
MPE3224AT
MPE3273AT
MPE3043AE
MPE3084AE
MPE3130AE
MPE3173AE
MPE3216AE
MPE3260AE
MPE3303AE
MPE3346AE
MPE3034AH
MPE3068AH
MPE3102AH
MPE3136AH
MPE3170AH
MPE3204AH
MPE3239AH
MPE3273AH
MPF3102AT
MPF3153AT
MPF3172AT
MPF3204AT
MPF3051AH
MPF3102AH
MPF3153AH
MPF3204AH
MPF3256AH
MPF3307AH
MPF3357AH
MPF3409AH
MPG3153AT
MPG3307AT
MPG3102AT
MPG3204AT
MPG3409AT
MPG3102AH
MPG3204AH
MPG3204AH-E
MPG3307AH-E
MPG3409AH-E

Next: Hitachi

What Does a REAL Data Recovery Lab Look Like?