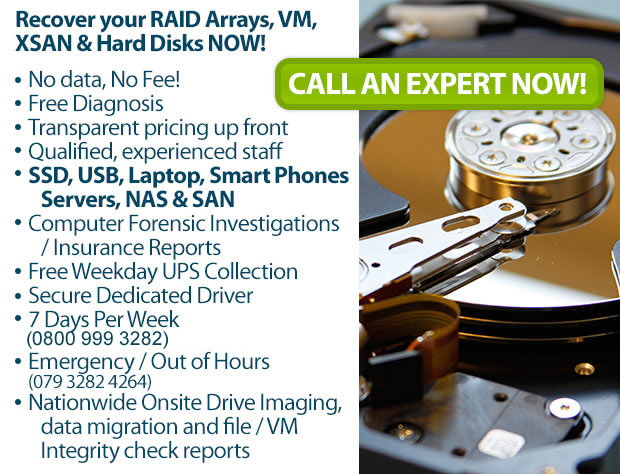 Data Recovery and Hard Disk Repair Services in London
If you're based in the London area and looking for a fast, cost-effective and reliable data recovery service, then your search is over. R3's Data Recovery Hospital has helped thousands of London-based customers recover valuable data from hard drives, RAID servers, USB drives and all other types of media storage device, and can reunite you with your data in no time.
In a hurry to be reunited with your data? Then please call us now on one of our London support numbers.
We can diagnose the vast majority of cases over the phone and will provide a full quote (with no hidden costs) up-front. We also make no charge in the unlikely event that we are unable to recover your data.


Our engineers are ready to provide custom developed solutions for any data recovery crisis you might be encountering. With our solid base of experience, dynamically evolving techniques and top-notch lab facilities, you can rest assured that you will be reunited with your critical data as quickly as possible.
The London Data Recovery Team
London based businesses with sophisticated RAID data storage arrays can be hugely disrupted if their systems fail, costing time and ultimately hurting profitability. We can have respond to your data recovery emergency at any time of the day, any day of the week and can restore your RAID system the very same day.
Recovery From External Devices
We offer data recovery services for external hard drives, USB memory sticks and personal devices such as laptops and iPods/iPhones.
London businesses rely on us to repair and restore hard drives that have been damaged by either mechanical or logical faults. If your hard drive proves to be unrecoverable, we can still restore the lost or inaccessible data and place it on a storage medium of your choice (USB memory stick, etc).
Contact us for more information on how we can provide a solution to your problem, along with a free London data recovery diagnostics service that will allow us to tell you exactly how much data can be recovered from your damaged system.

I was absolutely devastated when my memory stick broke. After ringing and emailing many, Andy was the only company who answered at 5 o'clock on a Saturday afternoon. He reassured me his skilled team and himself would try their best to recover my data, but obviously there was no guarantee. I felt instant relief and began to calm down from my previous upset. Andy quickly text me his details and on the Monday I sent my usb stick recorded delivery. The next day I received an email saying that my data had been recovered. I followed the instructions on the email and I saw my data on the screen – ss to say I was undoubtably greatful just from that. A few days later, I made a secure payment through PayPal and received an email for me to download my documents.I am ever so greatful to Andy and his team for all their work to recover my data. It saved me countless hours of work and I was very pleased with the service. Would highly recommend for data recovery!
Katarina Woodhoue

Based on our experience with asking R3 Data Recovery to recover a HDD after failure writing a review does not justify how impressed and delighted we are with the service we received.From the initial phone call to discuss the options available all the way through to receiving a drive back with our data restored R3 Data Recovery kept us informed every step of the way.
Simply cannot fault the service.
J Leaning

When my memory stick stopped working I feared the worst. As a teacher I had two years work of resources stored on the device which I foolishly had failed to back up. After getting nowhere with local computer shops I discovered R3 Data Recovery on an internet search. My initial phone call was treated in a confident and calm manner and I was given an honest assessment of the chances of data recovery. R3 Data Recovery were successful in recovering my data and were confident and professional throughout the entire process. It is without hesitating that I would recommend their services to anyone who finds themselves needing data recovered.
Stuart Watkin

The Team To Call For Any Emergency Recoveries In The London Area
When you visit a hospital you expect qualified professional to solve your health issues, it's no different when you need data recovered, there's a hospital for that too. The name is R3 Data Recovery Hospital, and it exists for only one reason, to recover damaged or corrupted data, even if it seems hopeless to others. Our engineers are specialists and will do everything within their power to return your hard drive (or whichever device you're using) to a completely healthy state.
It doesn't matter the make or model of your disk or device, our team is experienced and ready to solve almost any data recovery issue, providing the maximum opportunity for a successful recovery.
How Exactly Does A Hard drive Lose Data?
While there are a multitude of possibilities, there are four main causes of data loss.
Logical disk failure: This occurs when there is no physical damage to your drive; rather selected data has become corrupt. How could this happen? The most common reasons are accidentally reformatting a drive, attacks by a virus (something to always be careful of), partitions that have become lost (not physically, but virtually, or certain crucial files that were accidentally deleted.
Component or mechanical failure: Just like parts wear out in your car, this can also happen with a hard drive, the motor can simply stop working or the head can crash. Should this happen, it's likely your data will not be accessible without expert attention.
Failure of electronics: Electricity (using the correct voltage) is the fuel for your system, should the voltage be wrong, it's nearly a certainty you'll have issues with your hard drive electronics.
Degradation of media: Occasionally certain sectors of a hard drive may develop bad sectors/areas. When this happens, your hard drive may attempt to read data, but it will be unable to complete it sourcing, resulting in data loss (in most cases this data can be recovered).
What Are Some Of The Reasons This Happens?
While it's not possible to list every conceivable reason, here are the main ones that can cause data loss.
Surges in the current supplying your system
The accidental reformatting of a drive or overwriting crucial files.
Viruses that may have been inadvertently downloaded.
Actual physical damage, fire, floods, temperatures beyond specs, or sometimes physically dropping or mishandling a drive.
How Can Your Files Be Recovered?
Just as doctors train for physical emergencies, the engineering team at The Data Recovery Hospital has years of combined experience in nearly every data recovery scenario. Our labs are certified to ISO standards and our tools are state-of-the-art. Using a combination of tools, experience and a determined work ethic, we begin where others leave off. If your data can be recovered (and most often it can), we're the team for the job.

Logical failures: Our team, using their combined experience and cutting edge tools can instantly bypass bad sectors, ultimately forcing your hard drive to reveal every piece of data possible.
Mechanical failures: We have the tools, techniques and "clean rooms" to identify, repair (or replace) most any failed component. This is ONLY done after your data has been safely copied to a secondary system, ensuring the privacy and sanctity of your data.
Warning.. Our team is experienced and our tools are designed specifically for this task, please DO NOT attempt a home repair. Doing so could not only void a manufacturer's warranty, it could result in the complete loss of your data.
Please visit our contact page and speak with one of our staff, we're here to service your needs and ensure the safe recovery of your data.
Area Coverage – London Boroughs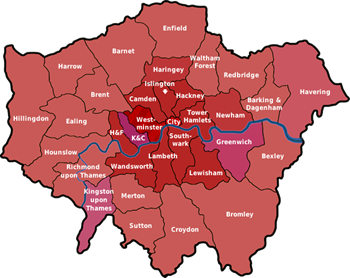 Inner London
Camden
Greenwich
Hackney
Hammersmith and Fulham
Islington
Kensington and Chelsea
Lambeth
Lewisham
Southwark
Tower Hamlets
Wandsworth
Westminster
Outer London
Barking and Dagenham
Barnet
Bexley
Brent
Bromley
Croydon
Ealing
Enfield
Haringey
Harrow
Havering
Hillingdon
Hounslow
Kingston upon Thames
Merton
Newham
Redbridge
Richmond upon Thames
Sutton
Waltham Forest
Next:
Birmingham

What Does a REAL Data Recovery Lab Look Like?