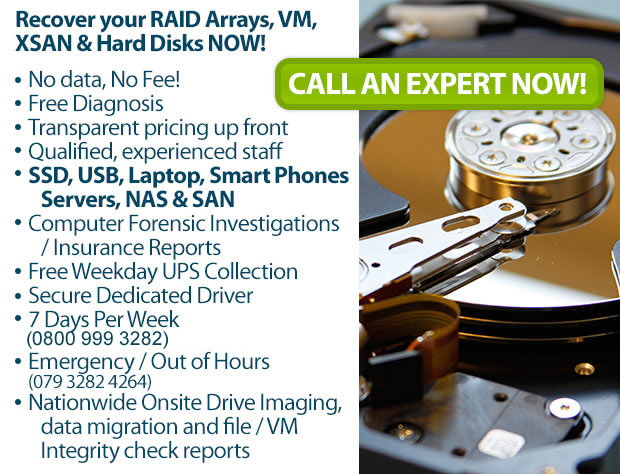 Hard Drive & Data Recovery Services in London
If you're based in the London area and looking for a fast, cost-effective and reliable data recovery service, then your search is over. Data Recovery Hospital has helped thousands of London-based customers recover valuable data from hard drives, RAID servers, USB drives and all other types of media storage device, and can reunite you with your data in no time.
In a hurry to be reunited with your data? Then please call us now on one of our support numbers.
We can diagnose the vast majority of cases over the phone and will provide a full quote (with no hidden costs) up-front. We also make no charge in the unlikely event that we are unable to recover your data.

Our engineers are ready to provide custom developed solutions for any data recovery crisis you might be encountering. With our solid base of experience, dynamically evolving techniques and top-notch lab facilities, you can rest assured that you will be reunited with your critical data as quickly as possible.
Our London Data Recovery Team
Click here for our full list of data recovery services and more information on how we can help you deal with the following:
RAID recovery: London based businesses with sophisticated RAID data storage arrays can be hugely disrupted if their systems fail, costing time and ultimately hurting profitability. We can have respond to your data recovery emergency at any time of the day, any day of the week and can restore your RAID system the very same day.
We offer data recovery services for external hard drives, USB memory sticks and personal devices such as laptops and iPods/iPhones.
Hard drive data recovery: London businesses rely on us to repair and restore hard drives that have been damaged by either mechanical or logical faults. If your hard drive proves to be unrecoverable, we can still restore the lost or inaccessible data and place it on a storage medium of your choice (USB memory stick, etc).
Contact us for more information on how we can provide a solution to your problem, along with a free London data recovery diagnostics service that will allow us to tell you exactly how much data can be recovered from your damaged system.



I was absolutely devastated when my memory stick broke. After ringing and emailing many, Andy was the only company who answered at 5 o'clock on a Saturday afternoon. He reassured me his skilled team and himself would try their best to recover my data, but obviously there was no guarantee. I felt instant relief and began to calm down from my previous upset. Andy quickly text me his details and on the Monday I sent my usb stick recorded delivery. The next day I received an email saying that my data had been recovered. I followed the instructions on the email and I saw my data on the screen – ss to say I was undoubtably greatful just from that. A few days later, I made a secure payment through PayPal and received an email for me to download my documents.I am ever so greatful to Andy and his team for all their work to recover my data. It saved me countless hours of work and I was very pleased with the service. Would highly recommend for data recovery!
Katarina Woodhoue

Based on our experience with asking R3 Data Recovery to recover a HDD after failure writing a review does not justify how impressed and delighted we are with the service we received.From the initial phone call to discuss the options available all the way through to receiving a drive back with our data restored R3 Data Recovery kept us informed every step of the way.
Simply cannot fault the service.
J Leaning

When my memory stick stopped working I feared the worst. As a teacher I had two years work of resources stored on the device which I foolishly had failed to back up. After getting nowhere with local computer shops I discovered R3 Data Recovery on an internet search. My initial phone call was treated in a confident and calm manner and I was given an honest assessment of the chances of data recovery. R3 Data Recovery were successful in recovering my data and were confident and professional throughout the entire process. It is without hesitating that I would recommend their services to anyone who finds themselves needing data recovered.
Stuart Watkin


Next: Birmingham