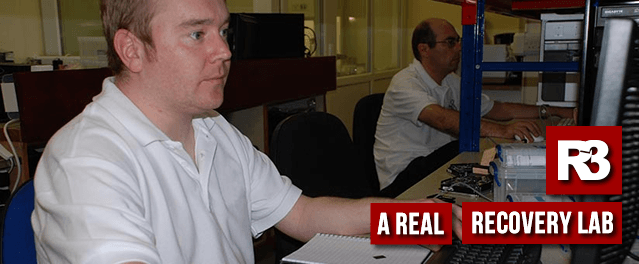 The 3R's of Disaster Recovery

Disaster recovery planning for most organisations should be a well structured method of restoring data that for whatever reason has become inaccessible.
As we are all too well aware when data is inaccessible, deleted or lost it can be have a catastrophic effect on a business as a whole or affect an individual's ability to function normally,  in many cases it can cause severe mental anguish and stress which can cause further problems if not rectified quickly.
That's where Andy Butler and his teams of data recovery technicians at the R3 Data Recovery Hospital can step in and reduce the overall trauma of data loss, minimize the damage and help promote data back to a healthy state.
R3 see every type of data disaster, from business investment planning of multinational businesses on a single memory stick, foreign exchange accounts on RAID 50 servers to virtual private servers on SANs or Virtual Machines on various storage devices including single SSD or HDD.
In most cases the cost of recovery is really about time and that's where having their hotline number on 0800 999 3282 should be part of the DR plan, save time and money by talking direct to an R3 DR specialist.
In most cases, businesses have backups, but when was the last backup taken? Even a backup can be corrupt, impracticable to restore quickly or if a key file has been affected.  Just because a file is in the directory tree does not mean it will open. And that's where gaining access to the original failed storage should be part of the DR plan.
The expertise of R3 Data Recovery technicians is called upon day and night all year round by every type of user, be it a student who has a dissertation to hand in, a husband who was charged with looking after the family photos, an office manager needing the accounts software database for yearend tax calculations, an organisations entire order book, production data of a steel works, breweries, pharmaceuticals or almost every type of manufacturing process and product.  All rely on the data being recovered to prevent having to destroy product or go through costly re certification procedures.
In some cases loss of access to some files can affect tens of thousands of customer accounts and the ability to trade on a daily basis.
So in order to limit the damage to business continuity it is worth considering having a R3 Data Recovery number and contact details to hand for the 3R's of disaster recovery:-
Repair: Most storage devices if they fail can be repaired to a working state to enable a stable  image to be made.
Recover:  During the recovery process all bad sectors are recovered where possible to ensure the least number of files are  left unrecovered.
Restore: Data can be restored either in its entirety or individually based on the results of the R3 file list viewer and integrity check, which includes date modified and file size.
From feedback of over 20,000 successful recoveries carried out by R3 technicians, over half of those clients had backups, and almost all RAID recovery engagements had disaster recovery plans in place, and saw the benefit of having a data recovery company save time and commercial / operational costs when compared with restoring data from tape backup or downloading from cloud storage.
R3 Data Recovery exists to reunite its clients with their data as quickly and cost effectively as possible.
Keep their contact details handy with your disaster recovery plan, you may need them one day.
What Does a REAL Data Recovery Lab Look Like?