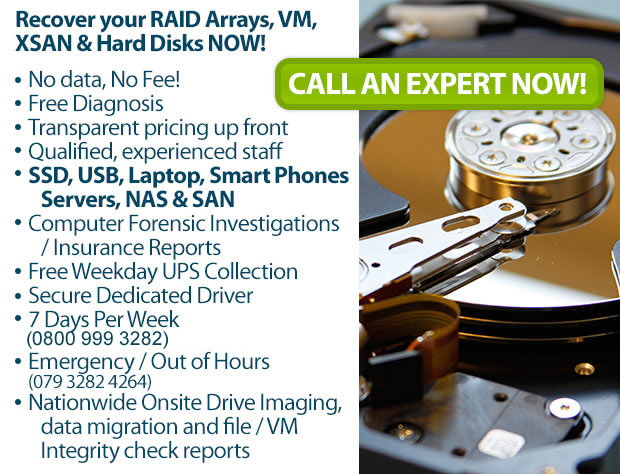 Hard Drive & Data Recovery Services in Edinburgh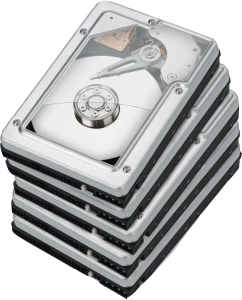 If you are having difficulty recovering data from a failed RAID array, hard disk drive (HDD) or external drive and you are based in or around Edinburgh, then you couldn't be in safer hands.
Regardless of the type or brand of the media device that is at fault, or the cause of the data loss, the Data Recovery Hospital has the world-class data recovery facilities, experts, and bespoke tools and techniques required to recover your data.
We can keep a tight rein on costs, which allows us to offer all clients a free diagnosis and competitive, transparent 'no fix, no fee' price in all circumstances.

If you're looking to recover data from any failed media device, please give us a call on one of our support numbers listed below for a free diagnosis. Alternatively, you can complete our online quote form to the right of the page.

Our Edinburgh Data Recovery Solutions
Hard Drive Recovery: We provide data recovery services for PC hard drives and laptop hard drives of all major brands. Check through our brands list to see if your device is covered. If you don't see it on our list, it's still worth contacting us to see if we can enact data recovery solutions for it.
External Devices: Due to the portable nature of external hard drives, USB sticks, memory cards and similar devices, it is possible for them to be dropped, knocked or otherwise mishandled to the point where they suffer some form of data loss through the device's mechanical failure.Our engineers are experts at solving these sorts of problems as we encounter them on a daily basis. Get in touch now if you have a problematic external device with important data that you need recovering.
RAID Recovery Edinburgh: Businesses based in the area can rest easy when it comes to the restoration of RAID systems. We are available and on call 7 days a week (because RAID failure can happen on the weekends too) and can provide RAID recovery services in as little as 24 hours.
Contact us on our dedicated Edinburgh data recovery support number 0131 215 1282 or use the online contact form in the sidebar.



I had a complete failure of my laptop on the afternoon of Dec 19th during a board meeting and back was incomplete because of travelling. I was especially concerned at this crisis just ahead of the Christmas holidays. On getting home that evening I located R3 Data Recovery and filled in the online request for a quote at 2145. 17 minutes later I received a TC from Andy Butler who laid out the options and told me he had a driver not far from my location. 15 minutes later at 2340 my laptop was picked up. Andy was especially kind in keeping me informed by text or phone as to progress and with questions to help assist he and his team to solve the problem. My data was returned on a 1TB portable hard drive at 1700 on Sunday 21st – only just over 40 hours since the laptop had been picked up. Andy followed up to help unlock several folders and I was back in business only 48 hours after my disaster. This was incomparably the best service I have received anywhere in 25 years as a consumer of the computer service industry. The knowledge shown, the management of the overall service and the close personal interaction were beyond exceptional and I am most grateful for the professionalism and expertise of Andy and the R3 team.
Richard Hunt

I am professional working DJ and needed a recovery on my broken external hard drive full of mp3 and wav music. The most important thing was the turn around time as I had flights to catch. I was able to meet a driver late Friday, have it recovered over the weekend and delivered to me on the Tuesday – baring in mind this weekend before Xmas. To top it off I had a 100% recovery and the service was excellent from Andy himself.
I almost went to PC World but his customer service and assurance made it an easy choice to use him. I would recommend his services to any one.
Rossko

Mother board failure wiped my hard drive causing the loss of legal documents and family photos which could not be replaced. None of the usual local computer services could recover the data. Sunday afternoon after carrying out some research and in desperation I phoned R3 Data Recovery and to my surprise the phone was answered by Andy who carefully listened to my problem and advised me to post him the hard drive. A few days later I received a phone call from R3 saying they had recovered everything from my wiped hard drive and had stored it on an external hard drive and would post it back to me. Having been told by the other computer firms that recovery was not possible I did not expect such a positive result. I cannot thank Andy and his team enough for the very professional way they dealt with my problem. I would recommend anyone with a computer problem to look no further than R3 Data Recovery Ltd. This company is genuinely number one with brilliant staff.
A big thank you from Jim and Sue to everyone at R3 Data Recovery.
Sue & Jim Moran


Next: Manchester



What Does a REAL Data Recovery Lab Look Like?