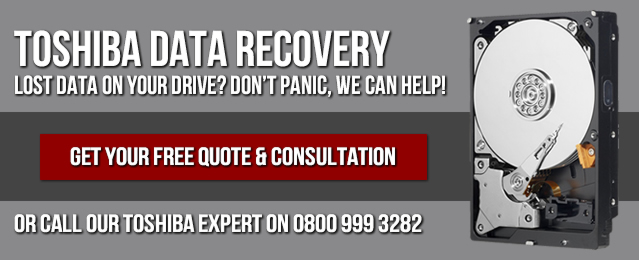 Data Recovery Services For Toshiba Hard Drives and Laptops
Whatever the problem you are experiencing with your Toshiba hard drive, we've got the answer.
At the Data Recovery Hospital, we understand that the sudden and unexpected loss of data can be disastrous for your business.
That's why we've done everything possible to make sure we successfully restore all recoverable files from any broken Toshiba hard disk. Our highly skilled and trained team of data recovery engineers is based in state-of-the-art laboratory facilities and we are constantly improving and refining the processes we use to recover missing files.
Phone now on 0800 999 3282 for a free diagnosis or complete our online quote form to the right.



Why might you need to recover data from a Toshiba hard drive?
Whilst Toshiba hard drives are no less resilient than other brands, there are a number of distinctive failure symptoms that make diagnosis easier, resulting in a quicker turnaround for restoring your important data.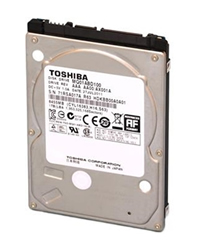 Mechanical motor failure, while not unique to Toshiba systems, is a commonly recognised problem. The motor can be heard to attempt to spin up, fail, and then repeatedly try again while failing to engage.
Toshiba laptop users can often experience a deterioration of performance in their system that gradually worsens until the hard disk fails entirely. This process may occur over a period of days but often the deterioration is far more rapid, lasting only minutes or seconds before the drive gives out completely.
A whining sound distinctive to Toshiba laptops has been discovered as the system powers up. Sometimes the sound is too quiet to notice through the laptop casing and sounds of other components, but it is useful for our engineers in allowing them to quickly identity the problem.
Professional Services
If you are unable to access your Toshiba recovery partition to repair or restore settings, or if your computer has suffered either logical or mechanical causes, get in contact to see how we can cure your data loss ills and help you with our expert Toshiba recovery.



I can't thank R3 Data Recovery enough for recovering all of my irreplaceable photos and client data successfully from a duff Seagate drive. I'm very pleased and would give 11 out of 10 stars for service if I could.
K Marsden
I thought I might have lost a lot of very important data, and after looking for the best people to entrust with my damaged flash drive, I decided to give R3 Data Recovery a call. Right from the start, they were professional and very helpful. They definitely made me feel safe in handing over my data. They were fast but kept me constantly updated with the progress. Any concerns were quickly laid to rest and I'm very happy with the service that R3 Data provided. I would definitely use them should such a thing arise again. Thank you very much for retrieving my data, guys.
Dan Payne
Andy's advice was greatly appreciated. He resolved the issue I was facing in terms of recovering my data, whilst being clear, understanding and pleasant to talk to. The technical guidance he provided aided me in what could have been disastrous circumstances. I cannot thank him enough.
Joe Hall
*Data Recovery Hospital is a Trading Name of R3 Data Recovery Ltd Since 01/03/2012

Recovering data From All Hard Disk Models Such As..

Toshiba Model LBA for SATA/IDE/SATA II/SERIAL ATA/PATA Laptop / Notebook 2.5″ Hard Disk Drives – 80GB and Above
MK4058GSX HDD2H41 400GB
MK3254GSY HDD2E41 320GB
MK3252GSX HDD2H01 320GB
MK3253GSX HDD2H11 320GB
MK2554GSY HDD2E42 250GB
MK2546GSX HDD2D90 250GB
MK2552GSX HDD2H02 250GB
MK2553GSX HDD2H12 250GB
MK2051GSY HDD2E21 200GB
MK2049GSY HDD2E11 200GB
MK2035GSS HDD2A30 200GB
MK1654GSY HDD2E43 160GB
MK1651GSY HDD2E22 160GB
MK1649GSY HDD2E12 160GB
MK1646GSX HDD2D92 160GB
MK1652GSX HDD2H03 160GB
MK1653GSX HDD2H13 160GB
MK1637GSX HDD2D60 160GB
MK1254GSY HDD2E44 120GB
MK1249GSY HDD2E13 120GB
MK1251GSY HDD2E23 120GB
MK1246GSX HDD2D91 120GB
MK1252GSX HDD2H04 120GB
MK1253GSX HDD2H14 120GB
MK1237GSX HDD2D62 120GB
MK1234GSX HDD2D31 120GB
MK1234GAX HDD2D16 120GB
MK1233GAS HDD2A05 120GB
MK1034GSX HDD2D37 100GB
MK1032GAX HDD2D08 100GB
MK1031GAS HDD2A02 100GB
MK8054GSY HDD2E45 80GB
MK8051GSY HDD2E24 80GB
MK8049GSY HDD2E14 80GB
MK8046GSX HDD2D93 80GB
MK8052GSX HDD2H05 80GB
MK8053GSX HDD2H15 80GB
MK8037GSX HDD2D61 80GB
MK8034GSX HDD2D38 80GB
MK8032GSX HDD2D32 80GB
MK8032GAX HDD2D14 80GB
MK8025GAS HDD2188 80GB
MK8026GAX HDD2191 80GB
Toshiba 2.5″ Hard Disk Drives – 30GB – 60GB – ZE01
MK6037GSX HDD2D63 60GB
MK6034GSX HDD2D35 60GB
MK6034GAX HDD2D17 60GB
MK6026GAX HDD2194 60GB
MK6025GAS HDD2189 60GB
MK6022GAX HDD2184 60GB
MK6021GAS HDD2183 60GB
MK4036GAC HDD2G01 40GB
MK4036GACE HDD2E02 40GB
MK4034GSX HDD2D39 49GB
MK4032GSX HDD2D34 40GB
MK4032GAX HDD2D10 40GB
MK4026GAX HDD2193 40GB
MK4025GAS HDD2190 40GB
MK4021GAS HDD2182 40GB
MK4019GAX HDD2171 40GB
MK4018GAP HDD2166 40GB
MK4018GAS HDD2170 40GB
MK3029GAC HDD2198 30GB
MK3029GACE HDD2199 30GB
MK3021GAS HDD2181 30GB
MK3019GAX HDD2172 30GB
MK3018GAS HDD2169 30GB
MK3017GAP HDD2159 30GB
Toshiba 2.5″ Hard Disk Drives – 10GB – 20GB
MK2023GAS HDD2187 20GB
MK2018GAP HDD2164 20GB
MK2018GAS HDD2168 20GB
MK2017GAP HDD2158 20GB
MK2016GAP HDD2154 20GB
MK1517GAP HDD2157 15GB
MK1516GAP HDD2153 15GB
MK1017GAP HDD2151 10GB
MK1016GAP HDD2152 10GB
MK1214GAP HDD2149 12.07GB
MK1814GAV HDD2934 18.14GB
MK1011GAV HDD2932 10.05GB
Toshiba 2.5″ Hard Disk Drives – 3.0GB – 6.49GB
MK6017MAP HDD2155 6.0GB
MK6015MAP HDD2146 6.0GB
MK6014MAP HDD2144 6.0GB
MK6414MAP HDD2144 6.4GB
MK6412MAT HDD2146 6.49GB
MK6411MAT HDD2133 6.49GB
MK6409MAV HDD2918 6.4GB
MK4310MAT HDD2134 4.3GB
MK4309MAT HDD2134 4.3GB
MK4313MAT HDD2141 4.3GB
MK4306MAN HDD2914 4.09GB
MK4006MAV HDD2914 4.0GB
MK3212MAT HDD2133 3.25GB
MK3209MAT HDD2132 3.25GB
MK3205MAV HDD2912 3.3GB
MK3000MAN HDD2619 3.08GB
Toshiba 2.5″ Hard Disk Drives – 1GB – 2.16GB
MK2110MAT HDD2131 2.16GB
MK2109MAT HDD2130 2.16GB
MK2105MAT HDD2119 2.16GB
MK1608MAT HDD2118 1.62GB
MK2103MAV HDD2716 2.16GB
MK2104MAV HDD2718 2.16GB
MK2105MAV HDD2910 2.16GB
MK1403MAV HDD2712 1.44GB
MK1401MAV HDD2712 1.44GB
MK1301MAV HDD2712 1.35GB
MK1003MAV HDD2731 1.085GB
MK1002MAV HDD2731 1.085GB
MK1001MAV HDD2710 1.08GB
MK2101MAN HDD2616 2.16GB
MK1702MAN HDD2634 1.7GB
MK1302MAN HDD2632 1.35GB
MK2720FC HDD2612 1.35GB
Toshiba 2.5″ Hard Disk Drives – Less than 1GB
MK0802MAV HDD2730 815MB
MK1926FBV HDD2527 815MB
MK1926FCV HDD2517 815MB
MK1924FBV HDD2524 543MB
MK1924FCV HDD2514 543MB
MK1824FBV HDD2522 352MB
MK1824FCV HDD2512 352MB
MK1724FCV HDD2339 362MB
MK1624FCV HDD2338 213MB
MK1722FCV HDD2336 131MB
MK1522FCV HDD2326 126MB
MK1422FCV HDD2324 86MB
MK1122FC HDD2212 43MB
MK2628FC HDD2417 811MB
MK2528FC HDD2416 704MB
MK2526FC HDD2434 528MB
MK2428FB HDD2424 524MB
MK2428FC HDD2414 524MB
MK2426FB HDD2422 349MB
MK2326FC HDD2412 340MB
MK2224FB HDD2248 213MB
MK2224FC HDD2238 213MB
MK2124FC HDD2216 130MB
MK2024FC HDD2214 86MB
Other 2.5″ HDD Models
MK6050GAC
MK6050GACE
MK8050GAC
MK8050GACE
MK4050GAC
MK4050GACE
MK1032GSX
MK6032GAX
MK6032GSX
MK4039GSX
MK4058GSX
MK1229GSG
MK1629GSG
MK2529GSG
MK8017GSG
MK1617GSG
MK1231GAS
MK8031GAS
MK2431GAH
MK1214GAH
Toshiba 0.85″ Hard Disk Drives
MK2001MTN HDD0211 2GB
MK4001MTD HDD0112 4GB
Toshiba 1.8″ Hard Disk Drives
MK2001MPL HDD1212 2.01GB
MK5002MPL HDD1232 5.0GB
MK5002MAL HDD1242 5.0GB
MK1003GAL HDD1262 10GB
MK1504GAL HDD1285 15GB
MK2003GAH HDD1364 20GB
MK2004GAL HDD1422 20GB
MK2006GAL HDD1488 20GB
MK2008GAL HDD1662 20GB
MK3004GAH HDD1384 30GB
MK3006GAL HDD1442 30GB
MK3008GAL HDD1642 30GB
MK4004GAH HDD1524 40GB
MK4007GAL HDD1622 40GB
MK4006GAH HDD1564 40GB
MK4008GAH HDD1744 40GB
MK4009GAL HDD1682 40GB
MK6006GAH HDD1544 60GB
MK6008GAH HDD1724 60GB
MK8007GAH HDD1584 80GB
MK8009GAH HDD1764 80GB
MK8016GSG HDD1F06 80GB
MK1011GAH HDD1789 100GB
MK1216GSG HDD1F01 120GB
MK6028GAL 60GB
MK6014GAL 60GB
MK1214GAH 120GB
MK6015GAA 60GB
MK8025GAL 80GB
MK8022GAA 80GB
MK1626GCB 160GB
MK8031GAL 80GB
MK1231GAL 120GB
MK2431GAH 240GB
MK1229GSG 120GB
MK1629GSG 160GB
MK2529GSG 250GB
MK6034GAL 60GB
MK8034GAL 80GB
MK1234GAL 120GB
MK1634GAL 160GB
MK1633GSG 160GB
MK2533GSG 250GB
MK3233GSG 320GB
MK1235GSL 120GB
Next: WD



What Does a REAL Data Recovery Lab Look Like?