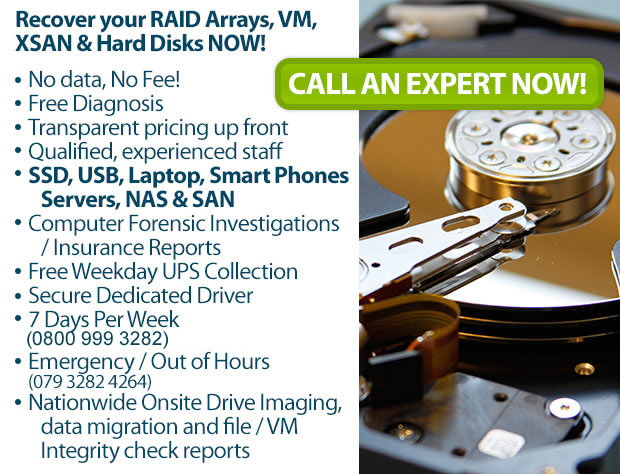 Hard Drive & Data Recovery Services in Hull
The Data Recovery Hospital has a long standing relationship with businesses and individuals in the Hull area and we strive to provide the best data recovery services that we can. Our clients can rest assured that should they encounter data loss problems with their personal or professional hardware, we're one phone call or email away from setting it right again.

If you would prefer to find out more about our customer policies before coming in to your nearest centre, please contact us with your queries.

Constantly Combating Data Loss in Hull
RAID Recovery Hull: We are proud of our reputation for helping businesses across the UK, including the Hull area, to get back up and running in the wake of a RAID system failure. Due to the extremely disruptive effects of a RAID configured system failing, we make sure that we are available to provide our recovery services 7 days a week. We also aim to have RAID failures diagnosed and repaired within 24 hours.
Hard Drive Recovery Hull: do you have a busted hard drive in desperate need of data recovery? If so, then our engineers are ideally placed to fix even the most severely damaged devices, regardless of make or model. We cover all major brands of hard drive and are equipped with the custom developed tools and techniques to reunite you with your precious personal data.
External Devices: We also provide data recovery for external devices such as USB sticks, camera memory cards and a limited range of mobile phones.
We take care of your data, through all stages of the recovery process. You will be informed on any updates either by email or personal phone call. You can also call for any updates our dedicated Hull data recovery support number on 0148 296 6282 or use the contact form.



My portable hard drive with all my information on it, files within files within files from personal to business information would not open, made grinding noises and I had not backed up any of it. R3 Data Recovery were exceptional, they took me step by step from packing to send the hard drive in its original state to them, explained all they needed to do, kept me up to date on what was happening, I had the option to pull out at anytime. For my drive repair it needed 'clean room' services and I was asked if I wanted them to continue and what the cost was, which I agreed to, a file list of what they retrieved was sent to me via email for my verification, with a phone call to let me know what the progress was and way forward, having verified content correct, all my retrieved files were sent back to me by post once they received payment. R3 Data Recovery kept my information usually for 10 days but as my husband was in hospital they extended this for me till I could verify access to my files and that all was present, they then delete the files at their end once the process is complete. I'm not computer savvy R3 Data Recovery made it very easy for me to understand, very personable staff with a wealth of expertise. Thank you all so much.
Sue Smith, St. Albans

Catastrophic hardware failure led me to seek out a data recovery firm who could try to recover the data. On conducting research, R3 seemed to be the most professional. My initial view was confirmed on dealing with them. Customer service was exceptional and the product returned was perfect, with all data recovered. The cost is high but is entirely in line with the market average.
Alex Xavier, Redhill

Really really pleased with the service I received, my broken memory stick containing important documents and photographs, was dealt with superbly. Quick, efficient, I was kept updated with the progress and received the salvaged information copied to a new memory stick in what was a very quick turnaround.
Gordon Fletcher, Reading


What Does a REAL Data Recovery Lab Look Like?