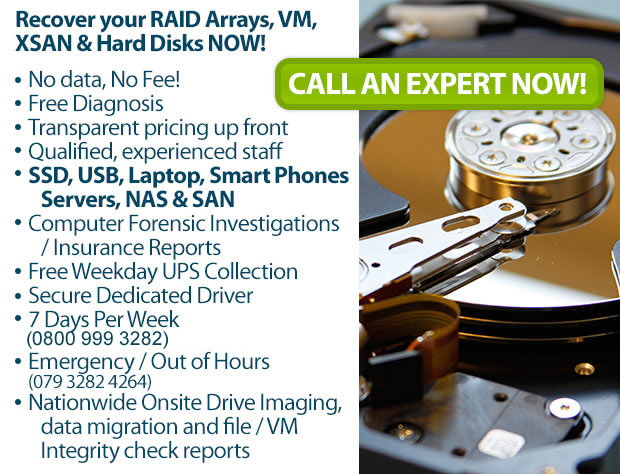 Hard Drive & Data Recovery Services in Bradford
Whatever the nature of your data loss issue, if you're based in Bradford then look no further for the solution. Data Recovery Hospital has extensive experience in restoring lost data to clients in the area.
Whether it's for personal or professional use, we have the facilities, tools and expertise to fix your device or server and provide you with a fast and effective data recovery solution. Our engineers are highly trained and experienced in repairing devices that have suffered mechanical, logical firmware or electrical failure.
It is impractical for us to have data recovery experts placed all across the country, which is why we have a series of centres present at key hubs and urban centres in the UK.



Bradford Based Data Recovery Services
RAID Recovery Bradford: businesses in the Bradford area can rely on us to provide fast and effective RAID recovery services seven days a week. We aim to provide a quick turnaround time from problem diagnosis to solution in under 24 hours. With a wealth of experience at their fingertips, our technicians can have your RAID system operational again before your business starts to suffer significant financial strain from the fallout.
External Device Recovery: USB sticks, camera memory cards, external hard drives and similar devices can suffer physical damage relatively easily due to their portable nature. Even devices that suffer severe physical damage can have their data restored, if handled by the appropriate experts with the right tools and expertise.
Hard Drive Recovery Bradford: both individuals and business organisations in the Bradford area have come to us for a whole variety of hard drive data recovery issues in the past years of our operations. We have a history of reliably and efficiently performing data recovery services on a whole host of hard drive devices.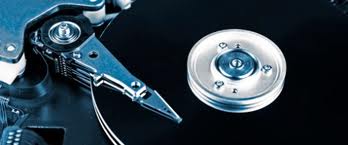 So whatever the nature of your data loss emergency, the Data Recovery Hospital can be relied upon to bring you back online. For more information on our availability, free diagnosis and "no fix no fee" policy, call our dedicated Bradford data recovery support number on 0127 495 6282 or use the online contact form.



I can describe my thoughts when I snapped my Flash Drive with one word – B%gger! Nonetheless, I would like to thank Andy at R3 Data Recovery Ltd for his patience with me as I tried to answer his questions and describe the Flash Drive to him over the phone. He was very helpful, prompted where necessary with questions and offered excellent advice. Unfortunately, after emailing a picture to the R3 team I was informed that the broken device was beyond repair as it was [insert some ninja tech words about monolith design].Even though the R3 Data Recovery were not able to retrieve my lost data, they were extremely helpful, patient and didn't charge a penny for the service provided. Great service, certainly a thumbs up from me!
Many Thanks.

Excellent Service.
My 1TB iMac hard drive crashed. I was devastated and really worried that I could lose all my design work of many years. I sent my iMac to a company which successfully replaced my failed drive for a new one but they couldn't recover any data – they don't specialized in recovering data but tried to get the data back via software and by taking the drive out and using a recovery enclosure. My iMac with the new hard drive and the damaged hard drive was sent back to me.I was desperate to find someone who would be able to get my data back. I found some companies specializing in recovering data on the Internet. One of them was R3 Data Recovery.
I filled a form via the internet and R3 Data Recovery called me back very promptly on Sunday in the late evening. I was given a quote and from that moment the whole process was very simple.
My damaged hard drive with a new external hard drive for the recovered data was collected from me by a courier. The communication was excellent too – I was kept informed at all stages. I was sent a long list of my recovered data (100% recovered), I paid for their service (very easy via the internet) and all my recovered data on the external hard drive was despatched to me the next day. My whole experience with R3 Data Recovery was excellent.
For many years I have not come across customer service like this. I would highly recommend R3 Data Recovery to anyone. Many thanks for recovering my data and your excellent service.
Anna Carson

I turned to R3 data recovery ltd when I broke my usb pen, less than 24 hours later my usb had been collected by a driver, fixed and data returned, at every stage of the process I was informed about what was happening. Staff were very friendly and most helpful. I would definitely recommend this company for any related issues. It solved alot of problems and my lost work was returned. The company also operate on a no return no fee policy which filled me with confidence. Prices vary depending on waiting time. Money well worth spent as within 6 hours of having the usb picked up my work was returned.
Usb User


Next: Liverpool



What Does a REAL Data Recovery Lab Look Like?