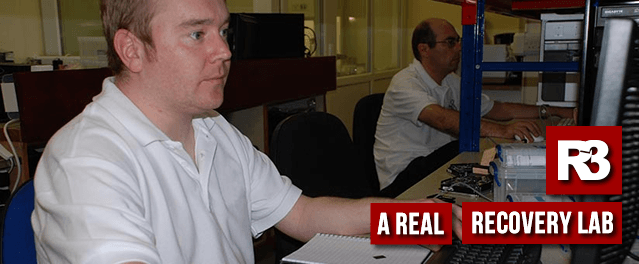 About Data Recovery Hospital
Data Recovery Hospital's mission is to be the best data recovery company. In practical terms, this involves:
Making sure we restore every piece of data that is recoverable in every circumstance.
Offering competitve, transparent all-inclusive prices – with payment for successful data recovery only.
Delivering a fast, friendly, confidential, professional service.
In order to deliver on the first commitment, we have recruited a crack team of highly trained data recovery specialists, equipped them with market leading tools and techniques, and based them in the best possible facilities.
You can find out more about how our service is superior to our competition in each of these key areas by clicking on the relevant link below. You may also use the following links to access more detail on our pricing policy, 'no hassle' recovery service guarantee, and security policy.
Jump to section on;
| Pricing | Service | Security | People | Tools | Facilities | The Future
Pricing
We have always offered our clients a 'no recovery, no fee' service and we won't even attempt to charge you until we have provided a full list of the files that we have been able to recover; after all, if we aren't confident that we can get your data back why should you be?
We also offer clients a free diagnosis and quotation by phone so that clients are aware of all costs before they are required to send in the failed disk. Our intention is to have a fully transparent pricing policy, so all quotes are all-inclusive wherever possible.
There are unfortunately some cases where this is not possible and these are fully explained in our Data Recovery Hospital data recovery process section. In all cases, you will be informed that this may be the case before you send in the disk and you may halt the proccess at any stage.
'No hassle' customer service guarantee
We understand that clients only seek to recover data that is important to them, so we do everything in our power to make the process as painless as possible.
We initially offer a free assessment of the problem by telephone or email, and will offer a fixed-price, 'no recovery, no fee' quote in the majority of cases. Once the quote has been accepted, we can immediately schedule a courier to collect the disk from your premises or for emergencies a driver can collect the any storage device up to and including server arrays.
On receipt of the disk(s), we confirm the problem and formulate a method for recovery. We then temporarily repair the device to a working state, clone it and recover the data from the clone and copy it to our secure servers. We then show you an interactive file listing to confirm the data we have recovered before any payment is made.
We then copy the data onto the return media (DVD up to 20GB, HDD for 20GB+) and dispatch it via UPS.
We also provide free online case tracking to allow you to track the progress of the data recovery at every stage.
Security
Data security is obviously crucial for many of our clients, and we take our role in the security of their data extremely seriously.  As such we make the following commitments to our clients:
All data, including copies of data, cloned images of storage media or copies of temporary copies of data made for transfer purposes will be destroyed within 14 days of receipt of payment.
24 hour security officers are present at all premises at which we store data and 24 hour CCTV is in operation at all times.
Between 8pm and 6am access to the entire site is restricted to authorised personnel by prior arrangement only.
Door entry systems are in operation at all times; with entry requiring key card authentication. Each entrance is protected by key locks, which are held by security officers and only authorised staff may enter.
Offices are open to the public during office house by prior arrangement only, with all areas manned during these times.
We guarantee that none of our staff have criminal convictions; current or pending.
Data recovery facilities
We have invested in the best possible data recovery facilities to ensure we maximise our chances of recovering important client data. In practical terms, we operate an industry leading, independently certified, ISO 3 clean room environment for the disassembly and recovery of all hard drives that have experienced an internal mechanical failure.
When building and disassembling hard drives, there is always a danger that rogue particles might lead to internal damage due to the tiny tolerances in use within a hard drive enclosure. Clean rooms minimise the risk of particulate contamination within the drive, and are critical to the success of data recovery.
Both ISO and the obsolete Class standards represent the amount of allowable particles of a certain size present within a specific volume of air (1 m³) in a controlled environment.   Lower Class and ISO standard numbers represent a cleaner, more filtered environment.
People
Our Data Recovery team has been assembled from specialists with a great deal of skill and experience across all of the disciplines required within a modern data recovery company.
In addition to the usual array of degrees and post graduate degrees you would expect:
The two owner/managers of the business are data recovery specialists and both continue to play an active role within the data recovery activities of the business:

Our Managing Director also acts as our Data Recovery  Manager. He has 10 years hands-on experience as a data recovery engineer, with the last five focused on the mathematics and principles behind more complicated disk arrays such as those found in Server and RAID.
Our Chief Executive's background is in computer forensics and he spent much of the late 80s and early 90s recovering lost data from large corporate databases, mainframes and floppy disks as well as other popular storage mediums of the time.  From 2002 onwards his forensic work reintroduced him to Data Recovery and this has been his main interest ever since.
The Head of Electronic repair has 20 years experience repairing and servicing electronic devices, experience which proves invaluable when recovering modern electronic devices.
Our Manager of Laboratory Operations has performed engineering/support roles for Corus and Fujitsu and has professional qualifications in Software Quality Assurance, Professional Supervision and Actuate Development.
Our Server / RAID team is headed by our MD and includes Microsoft Certified Professionals with various areas of expertise including the Microsoft Windows OS, Exchange, Microsoft SQL and more.   Our Server/RAID data recovery team also includes experts in Linux & MAC OS X operating systems.

Advanced tools and techniques
Data recovery techniques are constantly evolving and companies committed to keeping up with developments will continually recover data in situations that have beaten the less advanced data recovery companies. Data Recovery Hospital has an R&D team that constantly refines the tools and techniques we use on a daily basis. We are committed to developing new and improved methods of data recovery for all formats, from the most sophisticated RAID data recovery to the repair and restoration of hard drives and external data storage devices.
We have worked particularly hard on RAID data recovery over the last few years, working extensively with companies that utilise RAID 0, RAID 1 and RAID 5 data arrays, as well as a number of the lesser used, non-standard data array types. We are confident that the skill, determination and expertise of our engineers has been demonstrated during each of these RAID data recovery operations.
We also remain committed to helping individuals recover their lost data as much as business organisations. We understand that the sudden, unexpected loss of important data can be traumatic for personal or sentimental reasons as well as financial ones. For this reason, we continue to refine our data recovery services across as wide a range of devices as possible, so that when anybody calls to ask for our help, we can respond positively and get their data back as quickly as possible.
The future of Data Recovery Hospital
Looking to the future, the Data Recovery Hospital will continue to provide a friendly, personable and above all, professional service. Never resting on our laurels, we continue to research and develop better and more sophisticated data recovery techniques, so that our clients spend as little time separated from their data as possible.
If you need to recover data from a desktop, laptop, RAID device, or external hard disk drive, then please call now for a free diagnosis on freephone 0800 999 3282. Aternatively, generate a free online quote using the form to the right of this page or click on the following link for a full ist of  locations where parcels can be forwarded to our labs.

What Does a REAL Data Recovery Lab Look Like?