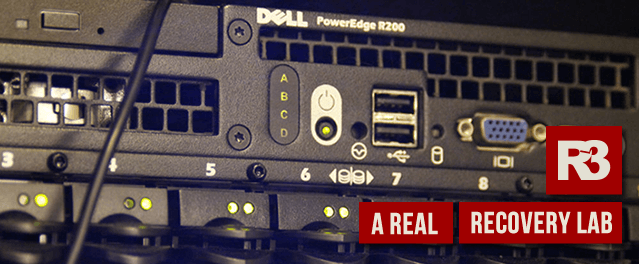 Server Recovery Techniques
Needing help recovering your server data, RAID array or VM?
Don't waste time reading this if you have business critical data needing to be restored, call Andy on 0800 999 3282 for free advice, instant quotation and benefit from getting your server back up and running often quicker and with more up to date files than restoring from the last tape, hard drive or online backup. Andy can organise collection of hardware from any data centre or address in the UK within 60 minutes. Or a remote diagnosis by one of his team of server recovery specialists. International clients can call +44 1142677699.
The Data Recovery Hospital specialises in recovering data from servers that have crashed or become inoperable. Regardless of the reason for the data loss, or whether it has been stored for commercial or non-commercial reasons, our crack team of server recovery specialists, tried & tested data recovery tools and techniques, and market-leading data recovery facilities offers the best possible route to recovering your data.
Depending on the severity of the data loss problem and the urgency required for the solution, we can perform RAID recovery or any other type of server recovery services at your location and have the server operational in as little as 24 hours.
Whatever technical difficulties you might be experiencing with accessing data from your server system, check out our services section for more information on our server and RAID recovery services. There you will find a list of frequently occurring problems and an outline of how our internally developed tools enable us to quickly and efficiently restore data from clients that experience them.
Server recovery services
Regardless of the type and severity of the damage caused to your server we can provide you with a free diagnostics service and a quote to advise you on how we can repair your server and restore any lost or inaccessible data. Contact us to discuss our range of solutions options which include but are not exclusively limited to:
RAID recovery for any type of RAID array, including widely used RAID 0, RAID 1 and RAID 5 array types
Repair and restore services for NAS, SAN, and DAS systems which have suffered data loss in whatever form
Complete reinstallation of any OS and previous settings to your server before the problem occurred. If the server's data is not completely recoverable, we are able to transfer any restored data onto a storage device of your choice (replacement hard drive, USB, etc) and return it to you.
If you need urgent server recovery please contact us or call 0800 999 3282 as soon as possible for expert advice and help. If you would prefer to locate a centre near you please visit out locations page. Alternatively you can get a free quote by filling in the box on the right.

Next: RAID Failures



What Does a REAL Data Recovery Lab Look Like?