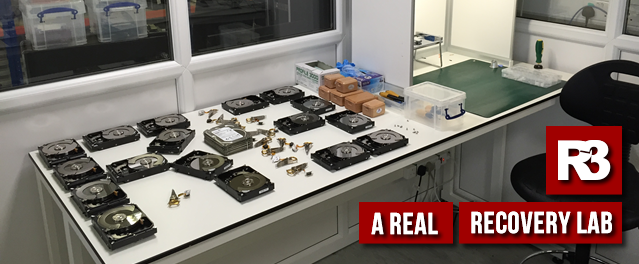 Milestones
R3 Data Recovery has completed its fourth successive year of growth through acquisition and increased productivity and has been helping many clients who have been told their data was unrecoverable when in fact it was.
For those of you unaware of data recovery or researching for the first time who to entrust your precious data with you will no doubt have found dozens of websites portraying world class data recovery services and labs in every town and city in the UK.
R3 has several websites including DataRecoveryHospital, Kingdomdatarecovery, Assureddatarecovery, Vensys, Tierra and others, but behind them is a real data recovery lab, a team of expert engineers, support technicians, customer services and sales team.
And R3 is one of those companies that has an enviable reputation and one that gets the job done hundreds of times per month.
What may come as a surprise that despite the hundreds of millions of storage device made each year very few actually fail due to manufacturer design faults which are covered if they fail within the replacement warranty period.
Similarly apart from Seagate who bought out actionfront some years ago the manufacturers of hard drives don't actually have their own data recovery labs and it is very rare they will offer data recovery as part of a warranty claim.
Most drives that arrive at a data recovery lab are those that have truly failed, normally as the result of knocks or dropping or power overvoltage or static.
Those clients who need help with deleted files or accidentally formatted drives can also rely on a professional data recovery lab to carry out the process safely but beware of adverts claiming sub £160 recoveries for hard drives. Anything below that threshold is likely to be something you could do yourself but more likely a bait and switch to use a software priced recovery to bring in enquiries.
Recently R3 sent a quote for a difficult software recovery which had been correctly assessed in the call. The quote of £199+vat upfront and £99+vat if successful was rejected in favour of a £97 no data no fee.
But the competitor for whatever reasons then escalated prices with the addition donor parts,"forensic imaging", clean room time etc all of which were unnecessary because it achieved the cost became over £1200.
Despite R3's successes all profits are ploughed into development of new techniques, not Yachts or prestigious headquarters in numerous international locations.
In reality any drive that has degraded media or electronic faults will be in the £200-£300 price range in a standard 5 day turnaround and £400-£700 for a fully failed clicking hard drive that requires a rebuild.
Sometimes with severely scratched platters especially if near the areas where critical data is located will need numerous rebuilds, and that's where costs do escalate but it's best to get a second opinion from Andy and the team at R3. Andy has assisted numerous consumers secure refunds and damages from unscrupulous organisations and attracted a lot of anger from those who do not like their easy profits system being exposed.
Time critical or data sensitive work will attract additional costs to be prioritised and R3 is one of the few high security labs available 24/7/365.
What has to be noted is how many"software recovery" and"have a go hero" attempts can actually make a rebuild more expensive, so be warned in your panic don't make a bad situation worse.
Running software for hours and even days can cause further damage to the storage areas. In worst cases resulting in rendering drives unrecoverable regardless of how much technical expertise, resources or tenacity a real data recovery engineer has at their disposal.
Be sure that the company you are dealing with has a real data recovery lab and has the resources they claim.
R3 Data Recovery Ltd has one of the most successful labs in terms of success rates in the UK, and in real terms the lowest average cost of recovery for the highest possible success rates, routinely recovering drives that have been declared unrecoverable.
In your hour of need if you are in any doubt who to ask for advice or where to go for data recovery call 0800 999 3282 for advice or to arrange a visit to the lab at Security House Windsor Street Sheffield S4 7WB.

What Does a REAL Data Recovery Lab Look Like?