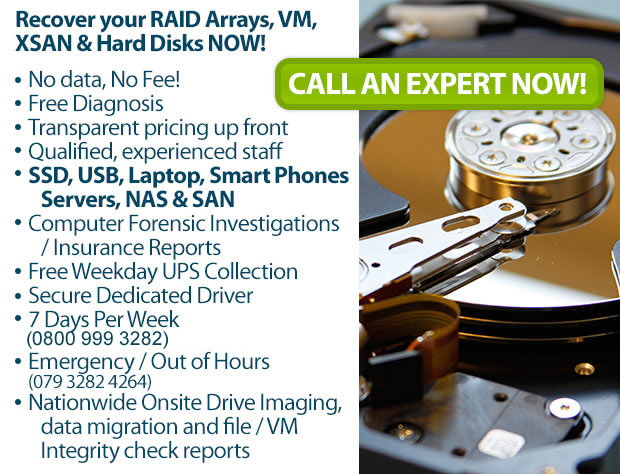 Hard Drive & Data Recovery Services in Glasgow
If you are based in Glasgow, or surrounding areas, and are currently unable to access important data, then it's time to contact the Data Recovery Hospital.
We have many years experience revovering data from failed hard drives, RAID arays and external drives and can reunite you with your data in less than 24 hours.

Our highly experienced team, based in world class facilities, has the tools and techniques required to maximise the prospect of a successful data recovery whatever the circumstances. Despite this, we have kep costs low to allow us to offer competitive, transparent 'no data, no fee' pricing, fast turnarounds and a secure service.
Please call now on one of our support numbers for a free diagnosis or complete the free online quote form to the right.
Help finding Glasgow Data Recovery Experts
Contact us if you require a quick and successful data recovery solution for any of the following:
Hard drive data recovery: Glasgow based businesses that have critical data storage systems that need to be recovered can rely on the Data Recovery Hospital to either fully repair and restore their damaged hard drives or recover as much inaccessible data from them as possible.
Data recovery from external data storage systems: USB memory sticks or external hard drives can be more easily damaged than desktop systems due to their lighter casing and portability. Call us if you cannot access your key data held within these devices.
Data recovery services for personal devices such as laptops or iPhone devices.
RAID recovery: Glasgow businesses who operate RAID arrays that suffer damage or data loss should contact us immediately for a swift repair and resolution of the problem. Under no circumstances should you try to resolve the problem yourself as continued operation of a faulty RAID system can lead to further damage and data being rendered inoperable.
I was very impressed by the professional and knowledgeable man I spoke to on the phone – he was able to diagnose my problem accurately given my description of what had gone wrong, precise cost estimations plus a realistic assessment of the likelihood of recovery. The other recovery companies I contacted did not have knowledgeable people answering the phone and gave vague estimates about time and costs. I was impressed and this inspired confidence.
Jon Barfield

Let's get this out of the way first: Data recovery is an expensive business. Once you get over that, you can appreciate that the service from R3 is excellent. My friend had a drive that died and a recovery was attempted by another company who totally failed to recover any data and returned the drive in a worse state than it was originally.I offered to help and reached out to R3 who answered all of my pre-work questions, picked up the drive and carried out the work. I was sent a list of all the files and their state – whether they were recoverable or not.
I went ahead with the recovery and the data was recovered exactly as specified in the list. My friend has the majority of his data back and R3 are definitely a much more reputable company that the previous ones that attempted the recovery. I wouldn't hesitate to recommend them to someone else who has made the fatal error of not making their own backups of their data.
Neil Wright

R3 successfully recovered all my data off a full 2TB external hard drive. I had thousands and thousands of files on the drive including important still and video shots of leaping salmon. I was told of the costs from the outset and was kept informed by friendly and knowledgeable staff every step of the way. Although the price was more than I would have liked to pay, the fact that I got all my data back meant it was good value for money. Exceptional service, thank you!
Dewi


Next: Sheffield



What Does a REAL Data Recovery Lab Look Like?