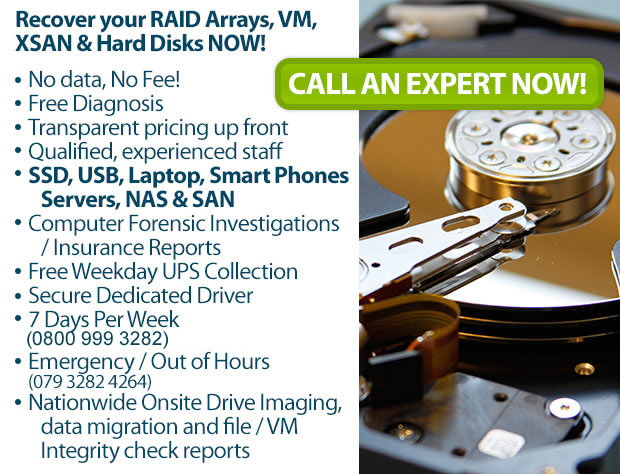 Hard Drive & Data Recovery Services in Cambridge
Cambridge based businesses can rest easy when data loss and mechanical failure plague them, because the Data Recovery Hospital has the cure. Our recovery engineers are fully experienced in handling data loss issues from the very minor to the completely catastrophic. We cover all major brands of hard drives, external devices and RAID systems and can provide data recovery services for them with speed and efficiency.
We are available 6am to 12 midnight with duty technicians able to respond to your enquiry immediately if required by calling one of our support numbers.

Though we have data recovery centres across the UK, naturally it is impossible to cover every town and city so we have concentrated on bringing our services to as much of the population as possible.
Cambridge Data Recovery Services
RAID Recovery Cambridge: When RAID systems fail, a business's whole foundations can soon follow after. We understand just how much damage can be done by even a temporary failure in a business's RAID storage solution. Therefore, we're on hand 7 days a week to make sure that we can put your RAID, and your business, back on track.
Hard Drive Recovery Cambridge: Whatever the brand or manufacturer involved, we have the expertise and equipment to bring your device back from the brink of non-functionality. No matter how it became damaged or the data was lost our engineers will have the answer thanks to our continual investment in new cutting edges data recovery tools and techniques.
External Devices: Along with all major brands of hard drive, we also restore data to external devices, such as USB memory sticks.
Our in Lab and Onsite Service Levels
Budget (7-10 working days)
Priority (4-6 working days)
Emergency (12-72 hours)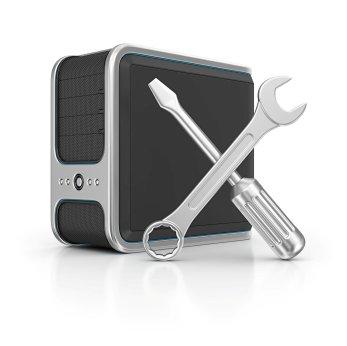 The Data Recovery Hospital team are made up of industry leaders with some having notched up 30 years since their first recoveries. We offer home users, businesses, corporations, charitable organisations and IT Support companies free UPS collection in the Cambridge area.
our team gives a personal touch to any recovery, giving you peace of mind knowing you have the best teams of data recovery technicians working on your behalf.
We will be inform you on any updates either by email or personal phone call or you can call our dedicated Cambridge data recovery support number on 0122 397 9282 or use our contact form.

Mother board failure wiped my hard drive causing the loss of legal documents and family photos which could not be replaced. None of the usual local computer services could recover the data. Sunday afternoon after carrying out some research and in desperation I phoned R3 Data Recovery and to my surprise the phone was answered by Andy who carefully listened to my problem and advised me to post him the hard drive. A few days later I received a phone call from R3 saying they had recovered everything from my wiped hard drive and had stored it on an external hard drive and would post it back to me. Having been told by the other computer firms that recovery was not possible I did not expect such a positive result. I cannot thank Andy and his team enough for the very professional way they dealt with my problem. I would recommend anyone with a computer problem to look no further than R3 Data Recovery Ltd. This company is genuinely number one with brilliant staff.
A big thank you from Jim and Sue to everyone at R3 Data Recovery.
Sue & Jim Moran, Helston

A failure hours before a deadline caused me to lose a drive and could have jeopardised my entire media project. I was very apprehensive about letting it leave my hands as I had read about common bad experiences of data recovery companies while looking for someone who could deal with my problem.
R3 Data Recovery sent a courier to my office to collect the drive within a couple of hours, taking it back to the lab to establish the problem.
Over the following week Andy and team kept me constantly updated by text and phone, working with me to recover the critical missing files to allow me to complete my project. They were patient and helpful in explaining the technical challenges behind this particular recovery, which helped me understand and feel reassured in the process.
Their perseverance resulted in their recovery of all of the important files I didn't have backed up – and in me being able to complete my production without having to re-shoot anything.
The cost of doing so was absolutely worthwhile and negligible considering what I would have lost. I would have no hesitation about recommending R3's service.
Thanks.
Alex Kendrick, London

Hard drive failure was promptly collected and diagnosed. Full data recovery and returned within 24 hours. The whole experience of lost data can be very stressful but with the help of R3 this was dealt with in a friendly and considerate manner and much quicker than expected.
Ian Allsopp, Derby


What Does a REAL Data Recovery Lab Look Like?