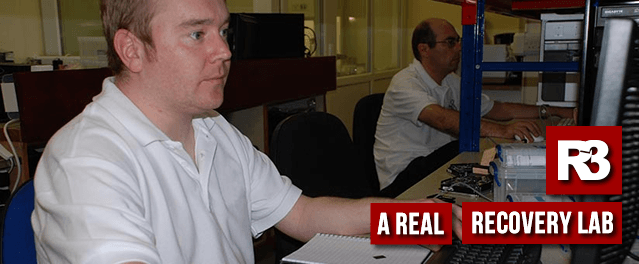 Free Consultation & Collection Arrangement
If you have any data recovery issues that we can help you with or would like to ask for a professional opinion don't hesitate to contact us using one of the following options below.
Phone us
Freephone: 0800 999 3282
Low Rate Mobile Calls: 0333 123 3282
Emergency 24/7 Line: 079 3282 4264

Use our Diagnostics form
Fill out our no-obligation diagnostics form on the right side of this page. We will get back to you and let you know how we can help with your issue.
Our mission is to make sure we maximise our clients' chances of recovering their most important data, regardless of the cause of the problem, or the media device involved.
For this reason, we have invested heavily in both the team that will be responsible for recovering your data, and the facilities they use to recover it. Our experienced Data recovery team contains industry–leading experts across all of the disciplines required in a modern data recovery business, and our ISO3 clean room facilities are the envy of the majority of our competitors, who have to operate in lower spec facilities.
The memory stick stopped working on Saturday. On Sunday I had it collected by a courier. R3 notified me when it arrived in their office and all my data was recovered sooner than expected. I felt in competent and reliable hands. I truly recommend this company!
Dr Marta Niccolai – London

After a hard drive failure on a production system industrial PC which caused a complete stop of a 24 hour production line R3 data recovery arranged to collect the drive, identified the fault, extracted the data and supplied a replacement with the recovered data in 24 hours over a weekend. Excellent service.
J. Howarth – Prudhoe

After dropping my iPhone into the toilet, it wouldn't turn on at all so I thought there was no hope of getting my data back (I'll now be backing up regularly!). I first sent the phone off to a repair company, who said there was nothing they could do. I then turned to data recovery companies. Although I was in a rush to send the phone off as I'd been told that water damage is often hit and miss with data recovery, a representative from R3 contacted me back in a very speedy manner – even out of normal working hours. The representative's knowledge seemed good, he didn't attempt to give false promises, and the quote seemed fair and cheaper than another one I had received elsewhere.
The company sent out a courier the next day, and within a week they had managed to recover all of my data and send it back to me. Throughout this process I had been informed who to contact with any further queries, and was updated in a timely manner. All in all I am very pleased with the service I have received, and would recommend them to anyone in a similar situation!
Caitlin Walker – Leeds

What Does a REAL Data Recovery Lab Look Like?