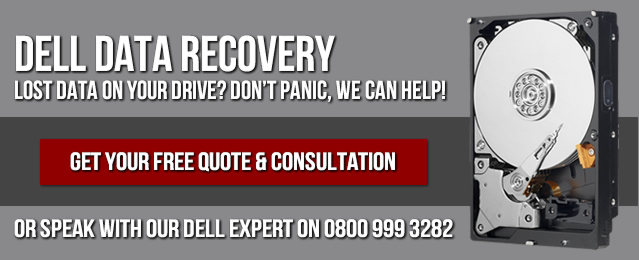 Data Recovery Services for Dell Computers, Servers & Laptops
Data Recovery Hospital is the leading Dell data recovery service provider in the UK. This service comes in handy when your Dell hard drive crashes. Our data recovery experts are ready to help you recover your data in case this happens to you.
If you want to recover either deleted or lost computer files you are at the right place, the engineers at our company have a decade long experience in dealing with such situations. This experience has given our experts the ability to recover data from all the hard disks no matter their make or model.
Apart from the specialized Dell Recovery services, we also give you the customer a no charge evaluation to determine the problem affecting your laptop, server, or dell desktop computer.

Common Dell Computer, Server, Tape and Laptop Recovery Services We Specialize In:
Mechanical Hard Drive Failures
Head Crash Causing Platter Damage
Physical Damage From Fire or Flood
Accidental File Deletion from Human Error
Physically Damaged and Dropped Laptops
Deleted Files and Partitions
Disk Reformatting
File Overwrites
Laptop Data Recovery
Blue Screen Of Death
We always have the customer in mind and that is why we always look for ways to make our customer feel satisfied and comfortable with our services. We know our customers need and how we can provide first class services.
As a leading market service provider, our data recovery services are backed by no data, no free guarantee. We recover the data you need or you do not have to pay even a single penny. The formula is that simple.
DRH recovers data from all laptops, tapes, servers and desktops. From hard disk drives on laptops or desktops to enterprise RAID arrays and server failures we can help you recover data.

Here is small list of the Dell Computer types we recover data from:
Dell PowerEdge Series Servers
Dell Precision Series Workstations
Dell Latitude Notebooks
Dell Inspiron Notebooks
Dell Optiplex Desktops
Dell Dimension Desktops
Dell Precision Mobile Workstations
Dell PowerVault Series Tape Backups

Dell Computer Recovery Process
To get started with your recovery all you need is to fill a dell data recovery form online on the right side of this page. Alternatively, you can call 0800 999 3282 for free and talk to our professionals.They will ask you some questions to find out what really caused your data loss. This is very important as it will help them guide you on how you can recover your data.
Your data can be recovered within 24 hours depending on the level of data recovery service you need. Once our team receive your disk drive, it logs it into our system. Immediately, you will receive a call from one of our professionals who will confirm they have received your media. After this, they gather any other information that may be needed by our engineers to help in data recovery.
Your laptop, desktop or Dell server is then taken to our labs for free evaluation. It is during this evaluation that a copy of your media is produced. As per our service commitment, we need a workable media copy to ensure that the integrity of your original media is maintained at all times.
To ensure that the data recovered is in a usable format, our experts take it through a strict quality control process. You will have your data back on your media of choice. Many people prefer DVDs. However, it is also possible to use external hard drives or USB flash drives. We can also use FTP transfer to send back recovered data online. This will help you download data from our servers in a quick and secure manner.
To arrange your free collection please fill out our online form on the right or call us at 0800 999 3282 to begin with your Dell data recovery process.

What Does a REAL Data Recovery Lab Look Like?