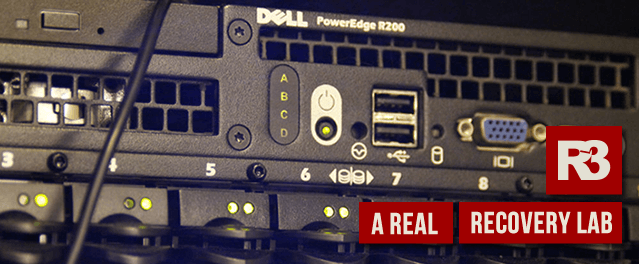 RAIDs and it Pours
April 2013 was a very busy month for RAID recoveries, a combination of power outages and drive failures put the R3 team at full stretch.
Several RAID 0 a couple of RAID 1 and a few RAID 5 is normal for any given month and the R3 raid recovery technicians have an enviable success rate but April has been the busiest month for RAID recoveries for Andy and his technicians since the Sheffield floods of 2007.
R3 Data recovery is regarded as the RAID recovery centre of the United Kingdom with an almost perfect success rate, routinely solving complex situations, with only the most physically damaged RAID arrays preventing recovery and a perfect success rate for R3 Data Recoverys RAID team.
Earlier in the year Andy even showed in a legal case how one RAID expert had declared "the data is a mess and cannot be recovered" to be mistaken and was recoverable and secured an out of court settlement.
April 2013 has seen a number of unusual situations which by their very complexity, file system design and file types have required extended work developing custom scripts to recover, some would normally be declared unrecoverable or result in a RAW recovery where fragmented files and files without file names are recovered but require weeks / months or even years to identify and rename each file.
Most data recovery services will routinely declare these unrecoverable even after weeks of expensive technician time.
Andy Butler and his R3 team provides a repair, recover and restore solution in these situations where Chkdsk in Windows or Fsck on Unix file systems has been run most on a no data no fee basis.
R3 are contracted by several data recovery teams in Europe and North America for second chance recoveries with considerable success.
This has shown that R3 technicians are amongst the best in the world.
All that said April has seen one HP server unrecovered which was physically damaged, the server was declared beyond recovery due all 4 member disks mechanically failing in a physical attack which left the server chassis fractured and clearly visible deformation of the server case over the caddy bays.
Despite R3 being called, and the clean room and technicians working overtime in an attempt to help the client, the severe platter damage on 3 of the 4 HP 15k disks had to be abandoned.
The emergency weekend response by R3 could not come to the rescue in that case with any file fragments which could be recovered being of no use towards getting the data needed from 30GB VM  file.
Other cases included a Hive RAID 5 with over 4TB of video data which although recovered within a few days, will take over 4 weeks to transfer back to the Hive storage unit.
One of the most complex during April was a RAID 50 which had 2 of the 6 15k SAS drives in a Dell R610 go offline, and when brought back online fsck ran,  resulting in the most upto date versions of critical business data being lost, R3 were called and all 6 drives imaged and the RAID50 virtualised, a file list was produced which confirmed that the live production files had been lost.
Design and development of a custom utility to repair the corruption is in progress at the time of writing, this should repair and rebuild the missing 50,000+ files including file names  which are currently lost and split into over 1million fragments.
For more information or to get a quote on any RAID array or to restore access to lost data after running Chkdsk or Fsck 0800 999 3282 and ask for Andy Butler at R3 Data Recovery Ltd.

Back to: COMPAQ Server Recovery



What Does a REAL Data Recovery Lab Look Like?