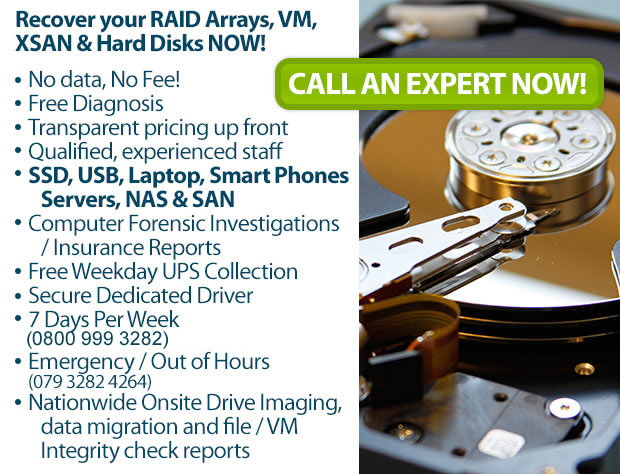 Hard Drive & Data Recovery Services in Cardiff
We are ideally placed to help people based in Cardiff to recover their personal or business related data in the event of serious or catastrophic data loss. We have strong ties with the area and a wealth of expertise to call on in order to make sure that whatever data loss problems you face, our engineers will be able to get to the cause of it.

With top-notch ISO-3 clean room facilities, custom developed tools and data recovery solutions and decades of combined experience in the business, we're well placed to provide data recovery in Cardiff and its surrounding satellite towns.

In Lab and Onsite Service Levels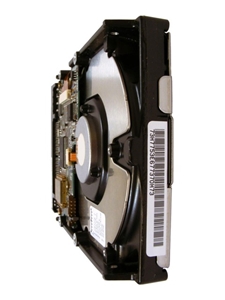 Budget (7-10 working days)
Priority (4-6 working days)
Emergency (12-72 hours)
Get Data Recovery Solutions in Cardiff
RAID recovery services Cardiff: For business that rely on RAID storage solutions, data loss can be a disastrous occurrence. We understand that it is vital to have a RAID system back up and running in as short a time as possible in order to minimise the amount of money lost through wasted business hours and lost confidence. That's why we're available to respond to your RAID failure concerns 7 days a week.
Hard Drive Data Recovery Cardiff: Whether your personal PC has been set on fire or you dropped it down the stairs, our engineers are capable of piecing back together lost data from hard drives that have suffered even incredibly serious physical damage. They can also help with the full range of electrical, firmware and logical faults that can afflict a hard drive and cause data loss.
External Devices: We also recover and restore a whole range of external devices such as mobile phones, laptops, external hard drives and USB memory sticks.
We take care of your data, through all stages of the recovery process. From Free UPS tracked courier collection, to dedicated emergency driver collection.
You will be informed on any updates either by email or personal phone call or you can call our dedicated Cardiff data recovery support number on 0292 197 1282 or use the contact form on this website.



My portable hard drive with all my information on it, files within files within files from personal to business information would not open, made grinding noises and I had not backed up any of it. R3 Data Recovery were exceptional, they took me step by step from packing to send the hard drive in its original state to them, explained all they needed to do, kept me up to date on what was happening, I had the option to pull out at anytime. For my drive repair it needed 'clean room' services and I was asked if I wanted them to continue and what the cost was, which I agreed to, a file list of what they retrieved was sent to me via email for my verification, with a phone call to let me know what the progress was and way forward, having verified content correct, all my retrieved files were sent back to me by post once they received payment. R3 Data Recovery kept my information usually for 10 days but as my husband was in hospital they extended this for me till I could verify access to my files and that all was present, they then delete the files at their end once the process is complete. I'm not computer savvy R3 Data Recovery made it very easy for me to understand, very personable staff with a wealth of expertise.
Thank you all so much.
Sue Smith

I am the Editor of a magazine and suffered a hard drive failure on the week before deadline. Andy from R3 took the matter seriously from the moment I rang and within a few hours the drive had been collected from my home, and was being worked on. Throughout the process I was informed almost hourly as to the progress, and reassured that most of the data could be recovered. Literally 36 hours later I had all of the data recovered and delivered to my office on a new hard drive. I have honestly never received better customer service. I would recommend anyone in this dire situation to ring R3. You will be in very safe hands.
Jordan Royce

Excellent service from Mike at the Sheffield branch. His email and telephone response was second to none. The data recovered was more than I expected.
I was kept informed throughout the data retrieval and up to the samples sent for my approval.
My only gripe was the time it took to receive an invoice and then after instant payment on receipt of the invoice, the accounts dept. Failed to reconcile payment for approx. 3 weeks. ( I was at fault in so much as I entered the job no. on the payment and not the invoice no. ).
Overall, if I ever need the same service I would return and will recommend R3 data recovery to others.
Anthony Hallsworth


Next: Coventry



What Does a REAL Data Recovery Lab Look Like?