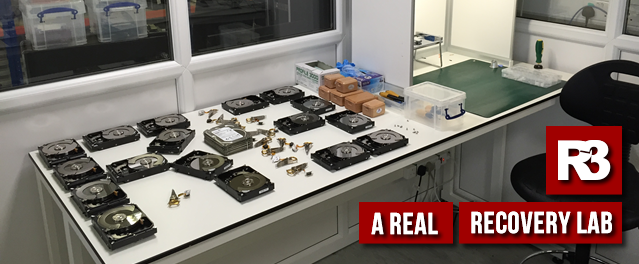 R3 Data Recovery LTD Celebrating 2015 Achievements

R3 Data Recovery Ltd is a small company which has been developed from a one man operation 10 years ago to a nationally and internationally recognised pioneer and leader in high success rate low cost data recovery engineering solutions provider.
With currently 22 staff in the UK and 10 data recovery engineers in the Security House lab it is testament to the companies expertise that it is called on by insurance companies, disaster recovery support companies, IT support services and other data recovery providers when they need help. R3 have an effectively cheaper data recovery service through economies of scale delivered direct to small businesses and consumers in their hour of need. R3 are also found through online marketing.
Having built the scale of production and efficiency in the UK only achieved by a handful of labs globally it is the success rates that are achieved from the decades of R&D expertise and commercial experience hard earned, much needed to compete in a "Wild West" unregulated marketplace.
With true world class industry pioneering and leading engineers experienced in RAID, VM, HDD, SSD and flash memory recovery and over 25,000 successful recoveries of damaged or failed storage devices completed by R3 in the last 4 years alone the company is looking to the future and more acquisitions and recruitment in 2016.
The R&D aspect many of these cases are ones are where R3 engineers are leading the way, where specific hardware engineering solutions are required rather than easier software recoveries R3 have proven that drives once thought impossible to recover should not be abandoned.
Unlike most data recovery operations R3 is a true data recovery lab, on a daily basis recovering drives declared unrecoverable in their specially developed data recovery lab, with real engineers and real facilities ensuring every case gets the best chance of recovery even for their budget data recovery customers.
R3 in the last few years have increased their market share through organic growth and acquisition, incorporating other data recovery providers and engineers into the R3 team to create the scale needed to operate at the leading edge.
The tenacity and resources built into the company is to be further enhanced in 2016 with more acquisitions and developments on the back of new sales and customer services offices in September 2015. The space released in the lab and new equipment and engineers came just in time for the December influx of flood damaged servers and hard drives from France and the U.K.
With over 6000 catalogued donors stored in the lab and another 2000 from recent acquisitions to be added, R3 can often have rebuilds and recoveries completed within 12 hours of arrival but also have a supplier network of over 50,000 donors as well as staff actively searching for difficult to identify or rare donor drives.
R3 director Andy Butler has pioneered cost effective data recovery at the highest success rates in the UK. He is the first port of call for many national and global organisations, financial institutions, government departments and SME's when they need help. He has built the Security House lab as well as assisted partners in Japan, North America and Europe improve their success rates by offering an escalation route.
R3 now have various brands and websites to help those who have never needed data recovery before, and can be contacted direct by those told their data is lost and unrecoverable.

What Does a REAL Data Recovery Lab Look Like?