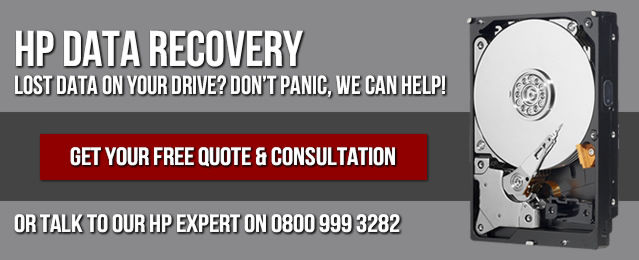 Data Recovery Services For HP (Hewlett Packard) Hard Drives, Computers, Laptops and Servers
Restore Lost Files From Your Failed HP Hard Drive
If you are looking to recover data stored on an HP hard drive, then you have come to the right place.
Our specialist HP data recovery engineers, based in stat-of-the-art laboratory facilities and using bespoke tools and software offer you the most likely route to regaining access to your data.
Call now for a free diagnosis and 'no data, no fee' quote and we'll restore your data for you in no time.

Causes of data loss within HP Hard Disks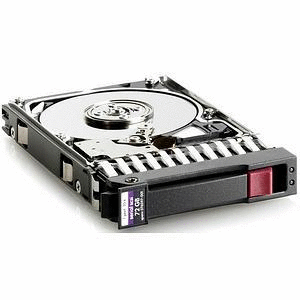 Whilst the hard disk drives (HDDs) sold by all of the major manufacturers tend to be pretty resilient, they are all susceptible to a similar set of problems that can cause data to be lost or hidden.
In the main, these can broadly be categorised into mechanical, electronic, firmware or logical problems, or an accidental overwrite of data.
You can read more about the common symptoms associated with each of these areas, as well as an overview on how we would overcome them in our hard disk failure section.

Symptoms of a HP Drive Fault
The following is a list of the more common symptoms that our clients have noticed when experiencing data recovery problems with HP hard disks. In all cases, the prognosis for a successful data recovery would be excellent at the Data Recovery Hospital. In the event that your HP hard drive exhibits any of the following symptoms, or indeed any other symptoms, then please shut it down as quickly as possible and contact us for a free diagnosis and advice on the best way to proceed.
HP hard drive fails to spin up after repeated attempts.
HP hard drive makes either continuous or repetitive clicking noises while trying to spin up.
HP hard drive not recognised by the BIOS when drive spins up.
HP hard drive suddenly seizes and fails to be recognised by the BIOS.
HP hard drive emits erratic whining sounds that indicate the onset of motor failure.
HP Hard Drive Data Recovery Services
Regardless of your HP hard disk model, the Data Recovery Hospital can provide a data recovery solution to any problems your hard drive may have experienced. Our world class ISO 3 dust-free clean room lab facilities (one of the very few available in the UK) allow us to offer you complete piece of mind that your important data will be recovered in optimal conditions.
Visit the contact us page for details on our free HP hard drive failure diagnostic service with a quote that will inform you of the extent of the problem, exactly how much data you can expect to have recovered and a range of solutions options that will accommodate your budgetary and scheduling requirements.



I looked at several possible data recovery firms; R3 weren't the cheapest but I liked their straightforward manner, the fact that they seemed to know exactly what they were doing, the fact that they were upfront with the cost, and also only charged a modest amount for the replacement hard drive. In total it took a week (including shipping both ways) – slightly longer than I was thinking it might take – but they contacted me several times to let me know where the process was at. So far as I can see, everything on the original drive has been recovered. I recommend them.
Richard Backhouse
R3 Data Recovery are lifesavers without a doubt. In August I thought I had lost everything when my external hard drive suddenly packed up. Stupidly I had only ever saved things to that drive – talk about putting all your eggs in one basket. I thought I had lost thousands of photographs and documents built up over many many years. However, a quick google search put me in touch with R3 Data and there was a glimmer of hope. R3 provided an excellent service and kept me informed throughout the process – very re-assuring and efficient. They were worrying days but it all turned out well and 2 working days later I was sent a file listing all the documents that could be retrieved. It wasn't 100% retrieval but in the high 90s % and that was 90+% higher than I thought I would end up with. Within a week I was up and running again with minimal disruption. Lesson learnt – Backup the Backup. A lesson well learnt ! I would recommend R3 to anyone.
Michael Gamble
From the first phone call to Andy at R3 it was obvious I was dealing with an honest company that knew their business! Searching the internet for the right company is very difficult and I am pleased to say I definitely got it right first time! R3 were extremely professional, supportive and retrieved all our lost data within just a few days – amazing! Thanks guys. Claire
Herrington Consulting
*Data Recovery Hospital is a Trading Name of R3 Data Recovery Ltd Since 01/03/2012

Recovering data From All HP Servers, Desktops, Laptops and Drive Models Such As..
HP ProLiant BL400c Gen8 Server Blade
HP ProLiant BL420c Gen8 Server Blade
HP ProLiant BL460c Gen8 Server Blade
HP ProLiant BL465c Gen8 Server Blade
HP ProLiant BL660c Gen8 Server Blade
HP ProLiant BL620c G7 Server Blade
HP ProLiant BL680c G7 Server Blade
HP ProLiant BL685c G7 Server Blade
HP ProLiant DL160 Gen8 Server
HP ProLiant DL120 G7 Server
HP ProLiant DL165 G7 Server
HP ProLiant DL160 G6 Server
HP ProLiant DL170e G6 Server
Hp ProLiant DL180 G6 Server
HP ProLiant DL320e Gen8 Server
Hp ProLiant DL360 G7 Server
HP ProLiant DL360e Gen8 Server
HP ProLiant DL360p Gen8 Server
HP ProLiant DL370 G6 Server
HP ProLiant DL380 G7 Server
HP ProLiant DL380e Gen8 Server
HP ProLiant DL380p Gen8 Server
HP ProLiant DL385 G7 Server
HP ProLiant DL385p Gen8 Server
HP ProLiant DL560 Gen8 Server
HP ProLiant DL580 G7 Server
HP ProLiant DL585 G7 Server
HP ProLiant DL980 G7 Server
HP ProLiant ML110 G7 Server
HP ProLiant ML310e Gen8 Server
HP ProLiant ML350 Server
HP ProLiant ML350e Gen8 Server
HP ProLiant ML350p Gen8 Server
HP ProLiant ML330 G6 Server
HP ProLiant ML350 G6 Server
HP ProLiant ML370 G6 Server
HP ProLiant SL230s Gen8 Server
HP ProLiant SL250s Gen8 Server
HP ProLiant SL270s Gen8 Server
HP ProLiant SL320s Gen8 Server
HP ProLiant SL350s Gen8 Server
HP ProLiant SL390s G7 Server
HP ProLiant SL4540 Gen8 Server
HP ProLiant SL4545 G7 Server
HP ProLiant MicroServer
HP StorageWorks X1400, X1500, X1600, X1800 Network Stirage Systems
HP 3PAR F-Class Storage Systems
HP 3PAR T-Class Storage Systems
HP EVA P6000 Storage
HP StoreEasy Storage Systems

Next: IBM



What Does a REAL Data Recovery Lab Look Like?