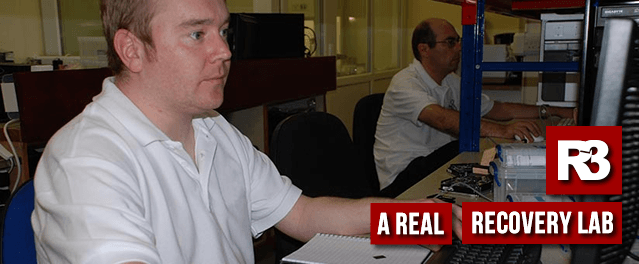 Partners & IT Professionals

Fellow data and disaster recovery provider.
It is my pleasure to announce the 2015 redevelopment of the Security House Lab is progressing well and is nearing completion.
The R3 team of technicians and support staff have completed a number of cycles of expansion to capacity and are continuing to demonstrate their class leading success rates and turnaround times.
Despite the pressure of handling hundreds of data loss situations and thousands of calls and email communications each month it is the labs inner workings which ensure we produce new techniques and solutions on a daily basis.
My stated aim to build the best data recovery lab in terms of success rates in the UK over 10 years ago has certainly been a trial over adversity and foolishness. Despite the pitfalls along the way I am pleased to announce that I have established one of the best teams of data recovery engineers ever gathered together in the UK.
What is more I have been able to build a team of unique individuals with the resources and expertise to solve cases deemed unrecoverable even by well known engineers and internationally renowned labs.
Other labs and resellers are benefitting from the escalation route R3 provides and they have been able to strengthen their operations by having a tie in with R3.
Our RAID, VM and emergency disaster recovery services have proven several times in the last year that the largest scale of engagements can be handled faster by R3.
As part of this summer's developments we are moving another leading DR engineer with over 10 years experience and his family to Sheffield, the lab layout will again be revamped to give R3, 4 fully equipped industry recognised leading DR engineers helped by support technicians.
Developing the sales and customer services is our current project, backed by an administrative function it is also enhancing our ability to cope with a doubling of workload year on year for the last 3 years and enabling a true 24/7/365 availability for emergencies.
Whilst achieving a scale of operations we are still a small company in real terms with flexibility to help 7 days per week day or night, I remain available to help with day to day server disasters and complex cases requiring coordination across the country and between different specialisms.
If you have any data declared unrecoverable by any DR technician in the UK or worldwide get in touch, short of smashed platters I can offer a free assessment and second opinion if your client still requires a solution.
For those of you who previously were clients of abc Data Recovery Ltd, I can confirm that R3 has proven the original concept of abc was correct and the attempts by competitors to undermine abc whilst upsetting, helped reveal those who cannot and should not be trusted in data recovery.
I am available to discuss any cases you need help with, if you would like to visit Security House for an informal tour and to meet the R3 Team or myself just get in touch with me direct [email protected]
Genuine independent online reviews of R3 Data Recovery Ltd can be found on the net.
What Does a REAL Data Recovery Lab Look Like?