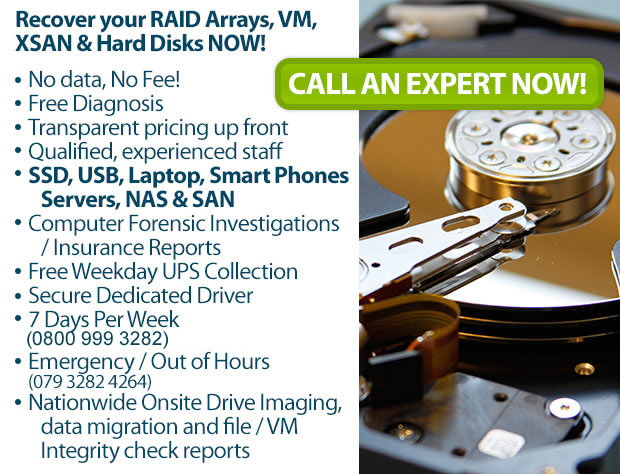 Hard Drive & Data Recovery Services in Bristol
Whatever the nature of your data recovery emergency, the Data Recovery Hospital is well placed to help get you back up and running again as quickly as possible. When it comes to data recovery, Bristol based businesses rely on us to restore critical data storage systems to working capacity and recover the vital data that they contain.
For a free quote and to get your data back please call us now or for information on our operating policies, what we do and how we do it, visit our home page.
Click here for a full list of our data recovery services that will help you jump to the heart of the problem and allow us to find the quickest and easiest way to fix it for you.



Our Bristol Data Recovery Services
Contact us if you require a swift data recovery solution for any of the following:
Hard drive data recovery: Bristol based businesses that have critical data storage systems that need to be recovered can rely on the Data Recovery Hospital to either fully repair and restore their damaged hard drives or recover as much inaccessible data from them as possible.
Data recovery from external data storage systems such as USB memory sticks or external hard drives.
Data recovery services for personal devices such as laptops or iPhone devices.
RAID recovery: Bristol businesses who operate RAID arrays that suffer damage or data loss should contact us immediately for a swift repair and resolution of the problem. Under no circumstances should you try to resolve the problem yourself as continued operation of a faulty RAID system can lead to further damage and data being rendered inoperable.
With over 20,000 successful recoveries and many where the data had been declared unrecoverable the Data Recovery Hospital team can handle any scale of disaster, be it a broken memory stick or a 48 drive SAN with hundreds of virtual machines.
You will be informed on any updates by either by email or personal phone call or you can call our dedicated Bristol data recovery support number on 0117 259 1282 or use our contact form.



I had an external 500GB external hard drive which could not access which was filled with data. I sent it to a place in Pall Mall London and was flabberghasted when they said they would charge around 490 pounds to recover data and they would not let me spread out the cost of paying for it and than charged around 20 pounds to return drive to me.
I then tried R3 Data recovery and they eventually emailed me that the cost would be 240 pound which they would let me pay of in installemeants. This was half the price that the place in Pall Mall said. Did not keep a record of what was on disc but it seems to have everything that was on broken disc (I sent another hard drive which they transferred the dats to).
The only niggles were that I could not access their site to find out what data had been recovered as I use an apple mac but I think they are going to have a mac accessible site in the future. The only other niggle was that they did not let me know when the disc had been posted back and by whom and when I should be in to answer the door but I just happened to ring to find out but I think they could not give me the time of day it would be delivered so I was out but got it next day but had to wait in a long time to be in for it.
I write poetry and have been published and also have a fine art degree so a lot of the data on the disc is unreplacable and I did not have another copy. So I was very gratefull that they appeared to get back all the poems and photos and art related stuff. I have another disc which is broken so plan to use them again.
Thanks very much R3 staff!
Richard Atkinson

The team at R3 could not have been more helpful and gave me a lot of their time to sort out my catastrophic disk collapse. Only problem for me was that I had so many files to be recovered some in Lotus software and they did what they could, I had to spend time recognising the data sent back but without their help, I would have had a massive financial problem with client accounts. A thoroughly secure, professional and worthwhile service.
Michael Somers

Catastrophic hardware failure led me to seek out a data recovery firm who could try to recover the data. On conducting research, R3 seemed to be the most professional. My initial view was confirmed on dealing with them. Customer service was exceptional and the product returned was perfect, with all data recovered. The cost is high but is entirely in line with the market average.
Alex Xavier


Next: Cardiff



What Does a REAL Data Recovery Lab Look Like?