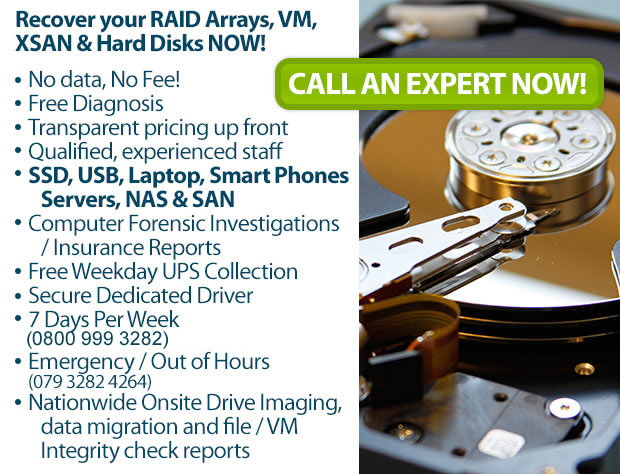 Hard Drive & Data Recovery Services in Belfast
Whatever the nature of your data loss emergency, if you're in the Belfast area then you need to get in contact. Our technicians have the skills, the tools and the facilities to restore your vital personal data.
Get in touch with us by calling one of our support numbers.
Regardless of what you need restoring, be it a camera's memory card or a full blown RAID array, no job is beyond our reach. We are available 7 days a week to take your call and attend to your data based emergencies. We also operate a "no fix, no fee" policy which ensures that if your data proves to be unrecoverable, we won't charge you a penny for our services.

Beat Data Loss in Belfast
Hard Drive Recovery Belfast: We have extensive experience in recovering data from all major brands of hard drives. From the lightly damaged to the truly battered, the amount of data that can actually be recovered from hard drives often surprises our clients. Even hard drives that have been scorched in an electrical fire can often still yield up some or even all of their stored data with the right application of tools and techniques.
External Devices: USB memory sticks, camera memory cards and external hard drives are just some of the devices we can restore lost data to. If the original device is unrecoverable, we will put your recovered data onto an appropriate storage medium of your choice (USB, hard drive, etc).
RAID Recovery Belfast: Nothing stings a business with an online presence more than server downtime. With increasingly sophisticated online operations being carried out by emerging businesses today, it's little wonder that more of them are turning to RAID storage solutions to help ensure smooth operating circumstances.
Though far more reliable than many alternatives, RAID configurations can still fail, causing considerable concern and damage when they do. That's why we are available 7 days a week to make sure that we can respond promptly to any RAID related emergency you might have.



R3 Data Recovery have gone above and beyond to help me this past week. My USB, containing my dissertation for my degree, suddenly become corrupted taking all my work away. I had no idea how to get it back quickly and securely with only 2 days left until hand-in day. R3 Company send a special courier from Sheffield to Newcastle arriving to me in an hour's time, then 2.5 hours later the USB had reached them safely back in Sheffield and they immediately began working on it. After an hour or so later, all my data was recovered. I've never felt so relieved, my life was depending on this USB getting fixed as University do not take 'IT problems' into consideration for extensions. Everything was done and dusted within 6 hours! I would like to thank in particularly Andy and Paul for their work and helpfulness. They were very reassuring and updated me on every step of the process. They also sent my data back the next day on a brand-new memory card. The cost is a bit pricey, but when dealing with an emergency like this it was all worth it. Normally this service would be cheaper but considering my circumstances it had to be done ASAP. I couldn't thank R3 enough for their help. I would 100% recommend their service!
Ana Weir

Digital Life saving recovery.
Recommendation of the highest order needs to go to R3 Data recovery company and specially to Andy Butler that have gone over and beyond the call of duty to help us recover the data from a corrupted/ blocked 1TB harddrive!
They accepted to see me after hours and on the weekend as there was urgent data needed to finish a project and went onto recover all of our treasured backed up photos of our family life as well as all the folders of our working life…
These guys are to be recommended and trusted with any disaster and if they cannot recover it, then no-one else could!
Thank you guys for saving our digital lives.
MaryTass

R3 Data Recovery were unbelievably fast in their response to our query and even faster when it came to actual work being completed. They came with quotation within minutes from sending an email and assured us that all the effort will be taken to meet our needs and deadline. They have recovered all sensitive survey data from an encrypted SSD disk over the weekend and have communicated thoroughly during the process. Their fast courier pick-up and drop-off assured that from Friday night panic we ended up with all data restored and delivered by Monday morning. Definitely recommended service and should we ever need this again (and let's hope not) we know where to come.
Karol Krajewski


Next: Sunderland



What Does a REAL Data Recovery Lab Look Like?