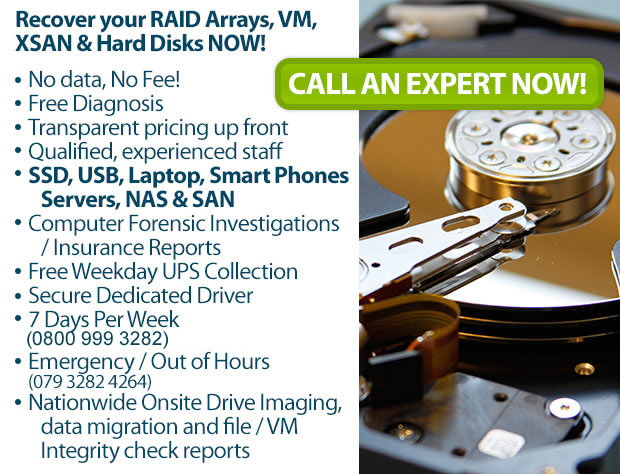 Hard Drive & Data Recovery Services in Sunderland
Need emergency data recovery in Sunderland? We can collect failed storage device within 60 minutes of your call and have your data recovered and back to you within 6-12 hours.
Got a data loss problem in Sunderland? Need a fried hard drive recovered double-quick? Then Data Recovery Hospital are the ones to call or email with your details and the nature of the problem. We have extensive experience in helping people and businesses in the area recover their lost data from a wide range of devices.
Whatever brand or model of hard drive, RAID system or external device you need restoring, we are on hand 7 days a week to reunite you with your lost data.

Sunderland Data Loss Problems Solved
RAID Recovery Sunderland: Whatever RAID configuration you have set up for business or personal use, our technicians are well versed in the ways it can suffer failure and how to put it right again. As RAID storage solutions become increasingly popular for businesses of various sizes, we have invested more time and effort developing custom tools and restoration techniques for different RAID configurations.
Hard Drive Recovery Sunderland: We cover all major brands of hard drive for PCs Macs and laptops. Whether it's a logical failure that has stopped you from accessing your files or a severe electrical fire that has fried half the drive, we're the ones you should be talking to. Our technicians are capable of recovering lost data from even the most seriously damaged hard drives. We also operate a "no fix, no fee" policy, meaning that should your personal data prove to be unrecoverable, you won't be charged at all for your services.
External Devices: along with the full range of hard drives, we also provide data recovery for external devices such as USB memory sticks and external hard drives.
Either bring your damaged device into the closest Data Recovery Hospital centre or get in contact with us to tell us the extent of the problem you are experiencing.



R3 Data Recovery Ltd did an amazing job recovering our data. The data that had to be recovered was from the Suaienadh experiment (https://www. Facebook. Com/Suaineadh) which went into space on a sounding rocket from Northern Sweden in March 2012 but got lost during re-entry. 18 month later, the experiment was found by hunters above the arctic circle. During the 18 month, the experiment had to withstand snow, rain and temperatures down to -30C. After the recovery, it was important for us that the data on the CompactFlash memory card is handled with care so we send it to R3 Data Recovery Ltd. The support of the team was outstanding and within a day we already got the file list and the whole image on a DVD was send to us via mail within 3 days. We were able to recover all the recorded data. Thank you very much R3 Data Recovery Ltd to be our supporter and for the great job you did bringing our experiment to a successful end.
Thomas Sinn

My daughter's memory stick failed, which contained 12 months worth of college work on! Panic set in, daughter in tears, lucky found this site, Andy was brilliant in calming us down and soon courier was arranged and data was being recovered, each step Andy talking us through, within 24hrs, calm restored and data received. Andy still on hand to help download this! Service exceptional, dread to think what we would have done without it – 12mths of hard work down the drain! The service saved the day and hopefully now my daughter can continue her study at university come September.
Sarah O'Brien

Had problems with my 2.5inch hard drive most people quoted very high prices for the work I needed doing and most companies said it would be very difficult to retrieve the data. I found r3 data recovery on the net told them my problems and their quote was almost too good to be true I sent my drive off to them and with in a week it was done they had recovered all files on my drive no problem I highly recommend this company and would gladly recommend them to anyone.
Calvin Mclean


What Does a REAL Data Recovery Lab Look Like?