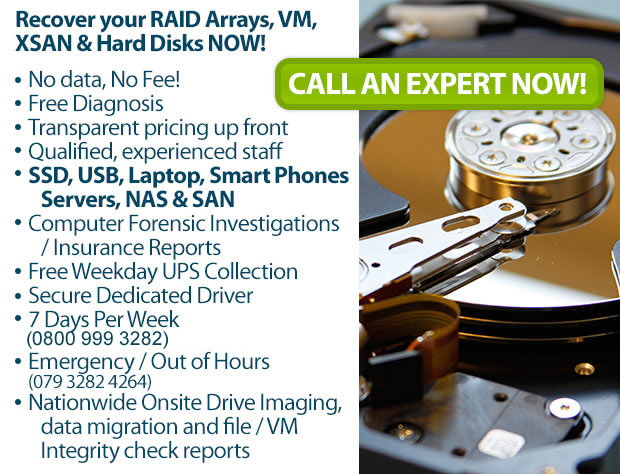 Hard Drive & Data Recovery Services in Leeds
Need emergency data recovery in Leeds? We can collect failed storage device within 60 minutes of your call and have your data recovered and back to you within 6-12 hours.
If you are based in Leeds, or indeed the surrounding area, and you need fast and effective data recovery services in the face of data loss disaster, then look no further. Data Recovery Hospital has many years experience in helping Leeds based businesses and individuals get back on track but reuniting them with their vital lost data. Call one of our support numbers listed below for immediate response.
Whatever the cause of your data loss issue, be it fried hard drive, broken USB stick, shut down server or something totally catastrophic like a RAID array failure, you can rely on us to put it right. We are available to fix your technical troubles 7 days a week and we offer free diagnosis of your data recovery issue.
Our state-of-the-art data recovery facility is located nearby in Sheffield where our engineers stand ready to provide you with custom made data recovery solutions to your problem that have been developed through untold years of experience handling the most difficult of data loss disasters.
If you need to be reunited with your data quickly, please contact us on 0113 400 1282 or use the online form in the sidebar and find out more about how we can help you get back on track.



Our Data Recovery Services for Leeds
RAID recovery Leeds: We understand the intense anxiety and monetary loss that can be caused by the failure of RAID arrays. We have the resources and technical ability to respond to your RAID recovery emergency and provide a solution within 24 hours. We are available to offer these services any day of the week as we know that RAID failure doesn't always happen on a convenient weekday.
Hard Drive Data Recovery: Leeds businesses and individuals rely on us on a daily basis to provide them with solutions to restore their damaged or otherwise corrupted hard drives. Regardless of make or model, Data Recovery Hospital technicians stand ready to cure your hard drive headaches.
External Devices: We also recover lost or corrupted data from USB memory sticks, external hard drives, mobile phones and other forms of external computer accessories.

Contact us on our dedicated Leeds data recovery support number – 0113 400 1282 – for a free diagnosis and information on how we can get you back your data no matter how it was lost.



Had a Failed network drive which didn't even show up in the BIOS – had irreplaceable Photos – of course, not backed-up… – tentatively, looked at data-recovery firms, assuming they'd be horribly expensive, but R3 Data recovery's costs appeared reasonable, first contact was helpful and informative, and when I decided to go ahead, the communication continued to be clear and helpful. Everything I needed was recovered and sent back on a replacement disk. I would have no hesitation in recommending R3.
Graham Shirling

R3 Data Recovery Ltd did an excellent job in saving my data (including all my photos for over 10 years) from a Toshiba external hard drive that I had dropped onto the floor! It was well worth the quite considerable (to me), but competeive, cost. The cost was as quoted, and in response to my email request for news after some delay I received an immediate reply telling me what the problem was. Highly recommended. Many thanks.
Bob Moulton

After dropping my iPhone into the toilet, it wouldn't turn on at all so I thought there was no hope of getting my data back (I'll now be backing up regularly!). I first sent the phone off to a repair company, who said there was nothing they could do. I then turned to data recovery companies. Although I was in a rush to send the phone off as I'd been told that water damage is often hit and miss with data recovery, a representative from R3 contacted me back in a very speedy manner – even out of normal working hours. The representative's knowledge seemed good, he didn't attempt to give false promises, and the quote seemed fair and cheaper than another one I had received elsewhere.
The company sent out a courier the next day, and within a week they had managed to recover all of my data and send it back to me. Throughout this process I had been informed who to contact with any further queries, and was updated in a timely manner. All in all I am very pleased with the service I have received, and would recommend them to anyone in a similar situation!
Caitlin Walker


Next: Glasgow



What Does a REAL Data Recovery Lab Look Like?