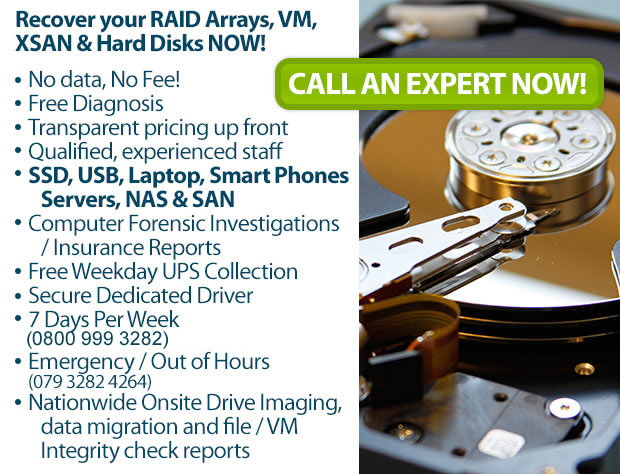 Hard Drive & Data Recovery Services in Brighton
Due to our unique combination of top class clean room facilities, dedicated engineers and cutting edge tools and techniques, we're ideally placed to help put you back on track and recover lost data for businesses in the Brighton area.
Whatever you think the cause of your data loss issue is, we would highly recommend that you don't try and make any kind of repair attempts yourself. Without the correct application of knowledge and precision equipment, it's highly possible that you can make the problem worse by accidentally formatting or overwriting data held on the device in question.
This in turn can lead to more data becoming permanently inaccessible. Therefore, as soon as you encounter a data loss problem, take advantage of our free diagnosis service in order to find out exactly what the extent of the problem is and how we can fix it. We also go by a "no fix, no fee" policy, so if your data proves to be completely unrecoverable, we won't charge you for our services at all.



Brighton Based Data Recovery Services

Hard Drive Recovery Brighton: From Fujitsu to Seagate, Maxtor to Iomega, we are fully equipped and capable of recovering data from faulty hard drives or any brand. Our engineers utilise custom made recovery techniques and tools so that they are always kept on the cutting edge of the industry. Whatever type of failure has affected your hard drive, we have the means of putting it right again.
External Devices: As well as the regular range of hard drives, we also specialise in the recovery of data made inaccessible on external devices. This covers things like broken USB sticks, damaged camera memory cards and so on. Due to their portable and more fragile nature, we handle requests to fix external devices on a daily basis.
RAID Recovery Brighton: RAID storage solutions are becoming more and more popular as the sophistication of a company's servers increases. While RAID systems are an incredibly reliable and effective way to store data, on the off chance that they fail, the ramifications for the owner can be dire. That's why we offer fast and effective RAID recovery services in the Brighton area in order to get businesses back on their feet.
We offer a personal touch to any recovery, giving you peace of mind knowing you have the best teams of data recovery technicians working on your behalf.
You will be informed on any updates by either by email or personal phone call or you can call our dedicated Brighton data recovery support number on 0127 361 0282 or use the online contact form.
I had a complete failure of my laptop on the afternoon of Dec 19th during a board meeting and back was incomplete because of travelling. I was especially concerned at this crisis just ahead of the Christmas holidays. On getting home that evening I located R3 Data Recovery and filled in the online request for a quote at 2145. 17 minutes later I received a TC from Andy Butler who laid out the options and told me he had a driver not far from my location. 15 minutes later at 2340 my laptop was picked up. Andy was especially kind in keeping me informed by text or phone as to progress and with questions to help assist he and his team to solve the problem. My data was returned on a 1TB portable hard drive at 1700 on Sunday 21st – only just over 40 hours since the laptop had been picked up. Andy followed up to help unlock several folders and I was back in business only 48 hours after my disaster. This was incomparably the best service I have received anywhere in 25 years as a consumer of the computer service industry. The knowledge shown, the management of the overall service and the close personal interaction were beyond exceptional and I am most grateful for the professionalism and expertise of Andy and the R3 team.
Richard Hunt, Beaconsfield

I am professional working DJ and needed a recovery on my broken external hard drive full of mp3 and wav music. The most important thing was the turn around time as I had flights to catch. I was able to meet a driver late Friday, have it recovered over the weekend and delivered to me on the Tuesday – baring in mind this weekend before Xmas. To top it off I had a 100% recovery and the service was excellent from Andy himself.
I almost went to PC World but his customer service and assurance made it an easy choice to use him. I would recommend his services to any one.
Rossko, Wickford

I work overseas and was only home for 10 days starting 21 December. I had been in touch with a number of companies to recover data from a broken external hard drive and whilst the prices were all pretty equal only R3 said they could do it in the time available. True to their word when I got home from the airport their man was there to collect the drive. If no big problems they said they would return the data on a new external hard drive before Christmas. Sure enough on Tuesday evening (23 December) it was returned with, as far as I can see, all the files in tact.
I'm obviously hoping I don't need to use their services again, however if I do, I know where to find them I wont have to worry about searching the internet for such service.
Graham G McKay, Edinburgh


What Does a REAL Data Recovery Lab Look Like?