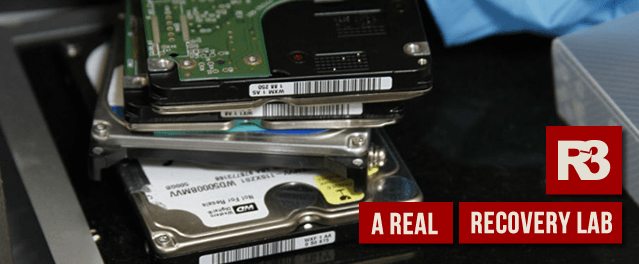 Professional Hard Drive Repair and Recovery Services
Updated on 21/02/2017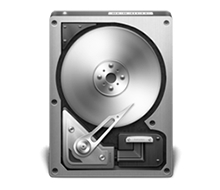 The Data Recovery Hospital exists to recover data from hard drives. Even hard disks that have been damaged or corrupted in some seemingly unrecoverable manner can still be restored by our expert data recovery engineers.
Regardless of the make or model of disk affected, our team of data recovery experts is ideally placed to maximise your chances of a successful data recovery.

How Do Hard Drives Lose Data?
There are broadly speaking four potential causes for hard drive data loss:
Logical failure: There is no physical fault with the hard disk drive or any of its components. Instead, certain data has become inaccessible for some reason. The most common causes of logical failures are accidental reformatting, a lost partition, virus attacks, deleted files, and corrupted files.
Mechanical failure: Component failures such as head crashes or motor stoppages can cause some or all of the data on the hard drive to become inaccessible.
Electronics failure: Data may become inaccessible after an electronic failure, when components fail or when the drive is supplied with the wrong voltage.
Media degradation: Data access becomes inaccessible in certain areas; either because the disk develops bad sectors or it becomes impossible to read the platters.



What Causes This And Makes Recovery Necessary?
Data loss can occur for a whole host of reasons that include but are not limited to the following:
Power surges or outages.
Accidental reformatting or overwriting.
Interference from malware or viruses.
Physical damage caused by exposure to fire, water, extremes in temperature or mishandling.
How Is The Data Recovered From The Hard Disk?
Whatever the cause of data loss, the Data Recovery Hospital can perform hard disk recovery operations to restore it. In certified labs our engineers utilise cutting edge tools and techniques to get to the heart of the problem and recover as much data as possible.
For logical failures, our data recovery tools and software can bypass any bad areas that prevent access to the data, "forcing" the hard drive to read around them.
For mechanical failures, hard drives are carefully examined in our lab facility's dust-free clean room where the component fault is identified and repaired or replaced after any lost data has been copied and restored.
It is highly inadvisable to try and perform hard drive recovery yourself without the appropriate experience and facilities. Doing so carries a high risk of causing further damage to the hard drive. For all your hard drive recovery needs, visit our contact page for a swift and satisfactory solution.



Had a Failed network drive which didn't even show up in the BIOS – had irreplaceable Photos – of course, not backed-up.. – tentatively, looked at data-recovery firms, assuming they'd be horribly expensive, but R3 Data recovery's costs appeared reasonable, first contact was helpful and informative, and when I decided to go ahead, the communication continued to be clear and helpful. Everything I needed was recovered and sent back on a replacement disk. I would have no hesitation in recommending R3.
Bob Moulton – Hassocks

Hard Disk Failure Explained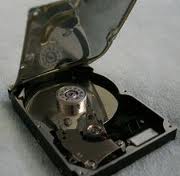 This section deals with the most common causes of hard disk drive (HDD) failure, the symptoms you might notice, and the steps you might take to recover your data. You may read more about how we restore inaccessible data in our data recovery process section.
There are many potential reasons for data to become inaccessible, and many different possible symptoms; the most common of which are listed here.
If your device is experiencing any of the following problems, simply click on the relevant link and jump to the appropriate section of this page where you will find out more about the likely underlying causes of the problem and the steps that will be required to restore your data.
Whilst the above list covers the majority of common symptoms of data loss, it's by no means an exhaustive list. If you are unable to access your files, but have different symptoms, then please contact us without delay for a free diagnosis and we'll do what we can to reunite you with your data as fast as possible.
My Samsung external hard drive ceased to work with most IT techs I spoke to saying it couldn't be recovered. R3 recovered the data, including family photos and important academic notes, at a very favourable rate. Communication throughout was excellent – including immediate notice of what exactly was saved and the resulting recovered data was both complete and immediately accesible. I would recommend R3 to anyone seeking to successfully recover data from faulty devices.
Rob Harrington – Canterbury

Mechanical (or Physical) Failure
Mechanical hard disk failures are caused by physical damage to internal components of the hard disk itself; e.g. the read/write head, motor, logic or printed circuit board (PCB), hard disk platters, cam/actuator arm.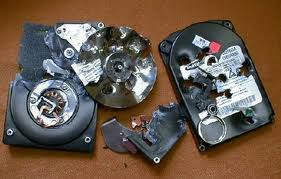 The most common solution to recovering data from a physically damaged hard disk is to identify and replace the damaged components. This should only ever be attempted in a certified 'clean room' environment, as the alternative is to risk the introduction of dust particles into the disk.
If these get stuck between the read/write head and the platter, they are likely to cause head crashes that damage the platter and make subsequent data recovery impossible.
Please click on the following link to find out more about Data Recovery Hospital's state-of-the-art clean room facilities.
Logical hard disk failures typically relate to errors with the file system, severely corrupted data, or invalid entries in a file allocation table (FAT). In each of the above cases, the data still exists, but is temporarily unreadable.
If you can hear the disk spinning, but still can't read any good data or information from the drive, then it's extremely likely that the hard drive is suffering from a logical problem.
Generally, logical issues tend to result from a failed re-partition, formatting, or Fdisking of the hard drive, or through the incorrect use of a "ghosting" or imaging program. Running disk checking / repair software (e.g. Scandisk, Chkdsk, Fsck) after a computer has shut down incorrectly can also lead to issues, as the software may look to repair non-existent filesystem errors.
Solutions to logical problems, include repairing the filesystem, master boot record or partition table, or using data recovery software to repair corrupted data.
Whatever, the cause of your issue, we recommend discussing your options with a data recovery specialist before proceeding. The wrong choice at this stage can often make matters considerably worse, making it impossible to recover data that should still be accessible.
At Data Recovery Hospital, we offer a free initial assessment of your options by phone or email – so get in touch today and start the process to recovering your data as soon as possible.
Electronic failures typically occur when an electronic surge or power spike knocks out the disk's controller board; thereby preventing the hard disk from spinning up and making it impossible for the computer to recognise it.
In this scenario, your data should be 100% recoverable if the controller board is replaced by an experienced data recovery specialist in the right laboratory conditions.
Please contact us today for a free diagnosis and assessment of the full cost of reuniting you with your all-important data.
The software that controls the physical drive hardware is called firmware. If it is corrupted, or becomes unreadable for any reason, then the computer can often not interact correctly with the hard drive.
Addressing firmware issues is a specialist data recovery job that requires the hard drive to be reprogrammed.
The Data Recovery Hospital is home to experts in this area, who have access to specialist equipment that allows us to maximise the likelihood of a successful recovery from this kind of problem. Please contact us today with a free diagnosis and assessment of what it would cost to reunite you with your data.
In most hard disk drives, "deleted" files are not actually deleted immediately. Rather the space they occupy is allocated for overwriting at some point in the future, and all references to them in the directory structure are removed. In this instance, the files can still be recovered if the appropriate action is taken before new files are created that overwrite the files in question.
Data Recovery Hospital has helped thousands of clients recover data from exactly this scenario, so please contact us today for a free assessment. Or request a free on-line quote using the form to the right.
R3 Data Recovery Ltd did an excellent job in saving my data (including all my photos for over 10 years) from a Toshiba external hard drive that I had dropped onto the floor! It was well worth the quite considerable (to me), but competeive, cost. The cost was as quoted, and in response to my email request for news after some delay I received an immediate reply telling me what the problem was. Highly recommended. Many thanks.
Graham Shirling, London

The commitment of R3 is second to none. Engineers were available seemingly around the clock and most importantly, they recovered the data that I needed. I would not hesitate to recommend them.
Geoff Payne – London

Excellent service. Highly responsive including out of hours and during public holiday period. I would highly recommend them.
Ed Bussey – iTrigga Media

We had a very unfortunate accident, where our main server was knocked over and our hard drive was damaged. Our software maintenance engineers were unable to help us. Fortunately R3 came to the rescue and worked tirelessly over the weekend to get us up and running they kept us informed all the way through the process and were always available on the phone. They were very professional and efficient and I would highly recommend them to anybody.
Shahram Mirtorabi – Hindley Dental Practice

Next: PC Data Recovery
What Does a REAL Data Recovery Lab Look Like?