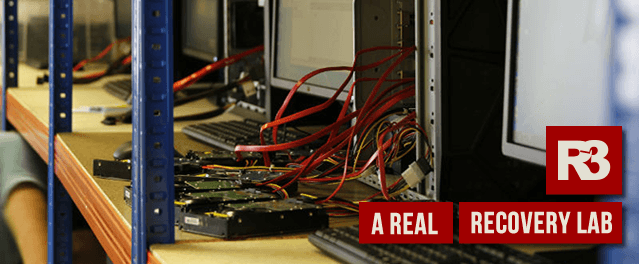 Hard Drive & Data Recovery Services in Milton Keynes
We're dedicated in our pursuit to provide the best data recovery services to people and businesses based in and around Milton Keynes. Our engineers are constantly improving the data recovery techniques that we utilise as well as experimenting with cutting edge tools which allow them to provide you with the most effective and efficient data recovery services.

If you suffer any kind of data loss then we strongly advise that you do not attempt to fix the problem yourself but get in contact immediately instead. This is because you can potentially make your data loss issue even worse by tampering with your device without the requisite tools and experience.
Our data recovery engineers are on hand to restore your lost data seven days a week, meaning that you can be reunited with your lost data in as short a time as possible.
Check out our list of data recovery centre locations to find out which one is closest to you. You can either contact us via email or phone, or alternatively you can bring in your problematic device directly to our nearest centre to see how we can help you.

Our Support Numbers
Milton Keynes Data Recovery Solutions
Hard Drive Recovery Milton Keynes: We cover all major brands of hard drive from Maxtor to Seagate and get restore your personal data regardless of the type of mechanical or logical fault that the device has suffered.
External Devices: Along with the full range of hard drive recovery services that we provide, we can also resotre missing or corrupted data from external devices such as digital cameras, USB memory sticks and portable external hard drives.
RAID Recovery Milton Keynes: We understand that there are businesses in Milton Keynes that rely on their RAID data storage systems and in the event of RAID failure they need fast and effective solutions. We have extensive experience in this arena and our engineers are on the cutting edge of RAID recovery with custom developed tools and techniques for use on all variations of RAID types.
They did a great job and were happy to explain the process to me in language I understood. I also got some extremely useful free advice about how to avoid this predicament in the future.
Guy Smallman, London

I am the Editor of a magazine and suffered a hard drive failure on the week before deadline. Andy from R3 took the matter seriously from the moment I rang and within a few hours the drive had been collected from my home, and was being worked on. Throughout the process I was informed almost hourly as to the progress, and reassured that most of the data could be recovered. Literally 36 hours later I had all of the data recovered and delivered to my office on a new hard drive. I have honestly never received better customer service. I would recommend anyone in this dire situation to ring R3. You will be in very safe hands.
Jordan Royce, Stockport

Excellent service from Mike at the Sheffield branch. His email and telephone response was second to none. The data recovered was more than I expected.
I was kept informed throughout the data retrieval and up to the samples sent for my approval.
My only gripe was the time it took to receive an invoice and then after instant payment on receipt of the invoice, the accounts dept. Failed to reconcile payment for approx. 3 weeks. ( I was at fault in so much as I entered the job no. On the payment and not the invoice no. ).
Overall, if I ever need the same service I would return and will recommend R3 data recovery to others.
Anthony Hallsworth, Norwich


What Does a REAL Data Recovery Lab Look Like?