A 64GB Lexar Professional arrived with us one morning and was diagnosed with a failed micro controller chip.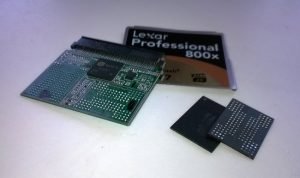 This sort of problem cannot be repaired so the only option was to remove the flash memory and read the RAW data from it. The two nand flash memory chips this device used are split into two banks so four dumps of data were made.
This is only the start of it, the clever algorithms the micro controller used have to be replicated in software and several attempts made to make the data corruption free. The dumps are sliced back together and then spilt upagain before finally being in a state where the users precious photographs recovered and his reputation saved.
Flash memory is very portable and compact but very vulnerable to failure so regular backup of your solid state devices is necessary.
What Does a REAL Data Recovery Lab Look Like?