Apple Xserve RAID Data & Disaster Recovery Services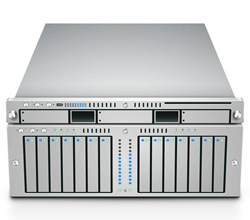 At R3, we pride ourselves on being able to fully recover data from Apple's Xserve architecture at any RAID level.
The Xserve configuration that's most commonly used has a standard parity-enabled stripe set. Each RAID stripe has 64k — 128 sectors — and individual files are striped across all of the array's disks. A rotating parity block with an XOR algorithm provides error correction.
A normal RAID 5 that suffers a single-disk failure isn't necessarily out of action. The RAID controller card can switch it into a degraded operational mode instantly and continue working. At this point, though, the array is running out of redundancies. A corrupted parity block or a second drive failure will put it down for good and require data recovery. Other factors that can cause data loss include controller card failures, firmware accidents, and power interruptions via natural disaster.

Xserve is capable of handling other RAID hardware levels, including 0, 0+1, 1, and 3. Xserve can be pressed into service to handle RAID 10, 30, or 50, but this requires software RAID support on the host side. R3's engineers have worked with every possible combination, even "home-brewed" levels not ordinarily used with Xserve hardware. All of our data recovery labs are fully equipped to work with Xserve devices.
When you have a failure on an Apple Xserve and need to recover your data, you can contact R3 at 0800 999 3282 to get in touch with our engineers immediately.
The Best Facilities For Recovering Xserve RAID Data
We treat every data recovery case individually to ensure minimum downtime. Our engineers will consult with your own IT department to build a specialized plan for the recovery and reintegration of your data and hardware. Depending on the conditions, we may employ remote data recovery or on-site recovery work. We know that your Xserve systems are vital to your business, and we've practiced our Xserve data recovery carefully to deliver a success rate of 95 percent. (Note success depends on cause of failure, RAID level, and other conditions.)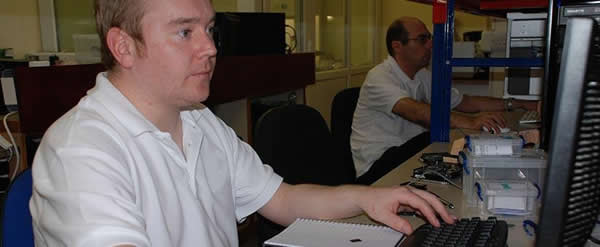 R3's data recovery labs are completely in-house. This is a sharp contrast to some of our competitors, who pass your media on to third-party laboratories. We maintain our services all over the UK, ensuring that your media arrives in a suitable lab ready for recovery work as quickly as possible. Every drive we work on is fully cloned prior to the start of recovery work; we even have Apple specialists to create and modify our software tools to suit the specialized needs of your server.
Nobody handles Xserve technology better than R3. We're ready to review your case and deliver a free consultation at any time. Get in touch – 0800 999 3282.
What Does a REAL Data Recovery Lab Look Like?