Bufallo RAID Data & Disaster Recovery Services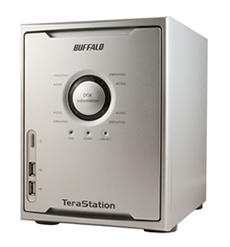 Buffalo Technology is among the leading developers of server technology, including RAID and NAS. It was also among the first companies to offer affordable versions of these types of systems for home computers and small offices. Buffalo products receive good reviews on a consistent basis and provide excellent redundancy, which makes it unlikely that data will be lost. However, in some situations, a user error, power surge or drive failure might make data inaccessible, so that data recovery will be necessary.
Recovery Process For Buffalo Terastation
Depending on the kind of Buffalo system involved, there are several paths that our data recovery process may take. In most situations, the recovery of Buffalo Terstation devices takes place in-lab. After all hard drives have been correctly imaged two times, a RAID specialist then de-stripes the disk. We use the term de-stripe to refer to the process of taking data from it's array state and placing it into one file or volume. No other data recovery company other than R3 images all hard drives two times before starting the de-striping process. Although it is time consuming, it helps to ensure the highest chance possible of your data being recovered.

Remote Recovery Options
Due to the high complexity level that is involved, the recovery process for a majority of Buffalo LLC occurs on site. That is especially true whenever the data loss has been caused by a hard drive failure. Also, recovery for any kind of Linux-based NAS device might be dangerous before block-by-block clones are made of each of the device's hard drives.
Whether the data recovery process is carried out in-lab or remotely, our general rule of thumb is to ensure that the complete process is non-destructive.
Error Codes For Buffalo Terastation
Buffalo RAID and NAS devices frequently have an error code that is displayed via the LED light panel located on the front part of the device. This LED panel uses several long blinks and then several short blinks as an indication of which error has been detected by the device.

If an error message is being displayed by your Buffalo device, data recovery might be necessary. It will depend on how severe the problem is that caused your error. For example, a Buffalo device displaying an E15 error is an indication that there is at least one disk that has failed in the device. Depending on what the level of redundancy is, it could result in a serious loss of data. It may be necessary to recover data from the failed disk. A similar error is E16, which is an indication that at least one of the hard drives on the device cannot be found (this kind of error can be caused by a complete failure of the electronics board on a hard drive). Other error messages related to data loss include E04, E1, E17, E1 and E22.
Buffalo devices (and Buffalo Terastation NAS devices in particular) also will frequently have on-screen codes displayed in order to indicate errors. For example "an error in a RAID Array has been detected," will be displayed on many of the Linkstation RAID devices whenever data can't be read and the array can't be initialized properly. Usually this message is displayed on the software that comes with the Buffalo RAID array. It might also display the message "Error has occurred in RAID array" and then the array number that can't be read.
Whenever one of those error messages gets displayed, usually there is a high chance of full recovery, since Buffalo storage devices and servers have been design so that permanent data loss is prevented. However, it is critical that your Buffalo device be turned off until you can consult with a trained and experienced data recovery engineer, since issues that relate to hard drives can become more severe when the devices repeatedly tries to operate as it normally does.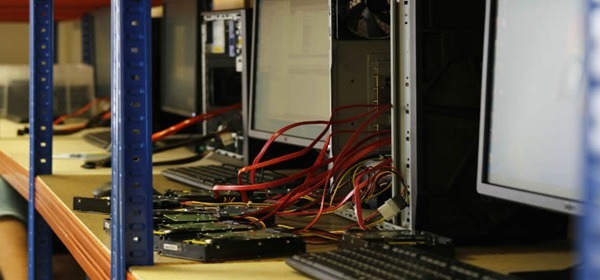 Failure Modes For Buffalo Terastation
Although Buffalo products are among the highest quality and reliable NAS devices that are currently made, they can fail at times, just like any other kind of electronic device. In a majority of cases, Buffalo Terstation NAS data loss or failure occurs because of:
Disconnection or power problem during a firmware update
Hard disk failure
User error like NAS re-configuration
Hardware or firmware failure
In nearly all of the above cases, it is very likely that the data can be recovered in our labs with a success rate of over 97%. A number of different storage configurations are supported by Buffalo devices, which provide end-users with various recovery chances and data protection levels following NAS failure. A singe 'share' folder loss occurs with a single drive failure. With multi-part storage, every drive has its own dedicated system mounted underneath the dedicated 'share' folder.
RAID 5: For a majority of terastations, this is the default and most popular. Data gets distributed over the drives through the use of backward parity rotation. It is a fast configuration but there is a loss of space that is equal to the capacity of one drive. In a majority of cases (unless the drive causes the unit power supply to fail), the unit continues operating in degraded mode after the one drive has failed.
JBOD: Data gets spanned along all of the disks. This helps to ensure fair performance and full storage capacity. A single drive failure might cause all data to be lost. For some devices, it is the default configuration.
RAID 0: Data gets distributed over the drives. It provides maximum capacity and is the best-performing configuration. All data can be lost by one drive failure. This method is still often used, but isn't as common.
RAID 10/0+1: This configuration involved two mirrored stripes. It provides very good speed but just half of possible storage capacity. Terastation devices rarely use this configuration.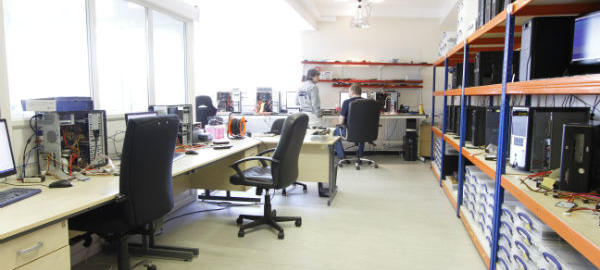 Recovery Tips For Buffalo Terastation and Linkstation
As previously mention, there is a much higher chance that recovery will be successful if the device is immediately turned off after the detection of an error. Call 0800 999 3282 and speak with a data recovery engineer. Provide a complete description of the symptoms of your device leading up to the failure and after it. Our engineers will then assess whether it is possible to recover the data remotely and will guide you through whatever necessary steps you need to take.
Call R3 at 0800 999 3282 to speak with one of our Buffalo NAS data recovery specialists.
We recover data from all Proware devices such as:
LinkStation 200
LinkStation 400
LinkStation NAS System
TeraStation TS7120r 8TB, 12TB Drives
TeraStation TS7120r Enterprise 24TB Drives
TeraStation 5200 2TB, 4TB, 6TB, 8TB Drives
TeraStation 5400 4TB, 8TB, 12TB, 16TB Drives
TeraStation 5400r 4TB, 8TB, 12TB, 16TB Drives
TeraStation 5600 6TB, 12TB, 18TB, 24TB Drives
TeraStation 5800 8TB, 16TB, 24TB, 32TB Drives
TeraStation Pro Duo 2TB, 4TB, 6TB Drives
TeraStation Pro 6 Bay 6TB, 12TB, 18TB Drives
TeraStation Pro 8 Bay 8TB, 16TB, 24TB Drives
TeraStation Pro Rackmount 4TB, 8TB, 12TB Drives
TeraStation Pro 4TB, 8TB, 12TB Drives
TeraStation Duo 2TB, 4TB Drives
TeraStation III 4TB, 8TB, 12TB Drives
TeraStation III Rackmount 8TB, 12TB Drives
TeraStation ES 4TB, 8TB Drives
CloudStation 1TB, 2TB Drives
CloudStation Duo 2TB, 4TB Drives
CloudStation Pro Duo 2TB, 4TB Drives
DriveStation 1TB, 2TB, 3TB, 4TB Drives
DriveStation Velocity 1TB, 2TB, 3TB Drives
DriveStation Duo 2TB, 4TB, 6TB, 8TB Drives
DriveStation Quad 4TB, 8TB, 12TB, 16TB Drives
DriveStation AV 1TB, 1.5TB, 2TB Drives
DriveStation Combo4 1TB, 2TB Drives
MiniStation Slim 500GB Drives
MiniStation Air 500GB Drives
MiniStation Thunderbolt Portable SSD 128GB, 256GB Drives
MiniStation Thunderbolt Portable HDD 500GB, 1TB Drives
MiniStation Plus 500GB, 1TB, 2TB Drives
MiniStation Extreme Portable HDD 500Gb, 1TB Drives
MiniStation 320GB, 500GB, 1TB, 2TB Drives
What Does a REAL Data Recovery Lab Look Like?