Dell PowerEdge Data & Disaster Recovery Services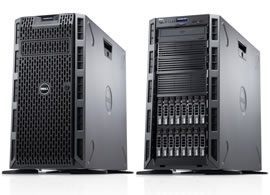 The Dell PowerEdge series offers its user powerful, enterprise-level features at a highly affordable price. Its servers are very popular for small businesses. Due to their popularity, R3 has created technology specifically to deal with data loss on PowerEdge devices. We offer a variety of service options which help business control their expenses.
PowerEdge servers utilize various different RAID configurations, but the RAID 5 is the most popular among them. The PowerEdge utilizes a default 64k RAID stripe, which is equivalent to 128 sectors. The user's data is striped across all of the disks. A parity block is rotated between each drive, ensuring redundancy.
If a hard drive happens to fail, the PowerEdge does not lose data. The RAID card defaults to degraded mode and continues operating without interruptions. If, however, one of the essential parity blocks is corrupted or if multiple hard drives fail, the RAID volume may fail. These are the most like data loss scenarios.

Creating A Data Recovery Plan For The Dell PowerEdge
R3 employs certified, professionals engineers who are vastly familiar with PERC controllers. We feature a modern laboratory with Class 3 clean rooms, and provide customers with the most efficient recovery options for PowerEdges nationwide. The process begins with a through evaluation, in which we'll provide a price quote along with a recovery plan for your particular case.
Our engineers will then create a disk image of every single functional RAID hard drive, repairing damaged drives which may be necessary to the set. Our experts have plenty of experience – many of them have worked with this sort of server for decades. Regardless of whether you utilize a blade, rack or tower system, we'll be able to develop the perfect strategy to return your essential files in a timely manner.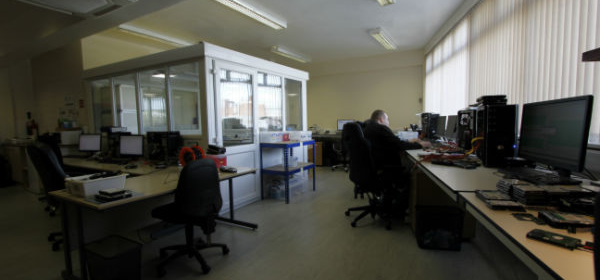 We provide recovery service for any PowerEdge configuration out there, including the RAID 1 (mirrored set), the RAID 0 (striped set), and the RAIDS 5 and 6. We can also work with all sorts of Nested RAID.
Unless your RAID was rebuilt using an incorrect configuration, it is highly likely that we'll be able to recover the data. We encourage customers to contact us before they attempt to repair or rebuild their RAID, especially if they're unsure of what has caused the failure. R3 provides free consultations as well as RAID evaluations, and offer great options following all sorts of server problem.
Give us a call at 0800 999 3282, and ask to talk to a Dell PowerEdge recovery expert.
We recover data from all Dell Poweredge servers such as:
PowerEdge Early Server Models
SP 433
SP 450
SP 466
SP 560
SP 566
SP 575-2
SP 590
SP 590-2
SP 5100
SP 5100-2
SP 5133
SP 5133-2
SP 5166
SP 5166-2
XE 433
XE 450
XE 466
XE 560
XE 566
XE 575-2
XE 590
XE 590-2
XE 5100
XE 5100-2
XE 5133
XE 5133-2
XE 5166
XE 5166-2
EL 575
EL 590
EL 5100
EL 5120
EL 5133
Web Server
XL 5133
XL 5133-2
XL 5133-4
XL 5166
XL 5166-2
XL 5166-4
PowerEdge Generation 1 Servers
PowerEdge Generation 2 Servers
PowerEdge Generation 3 Servers
300 SC
350
1300
2300
4300
4350
6300
6350
PowerEdge Generation 4 Servers
420 SC
430 SC
440 SC
1400 SC
1420 SC
1425 SC
1430 SC
1435 SC
2400
2450
4400
6400
6450
8450
PowerEdge Generation 5 Servers
500 SC
1500 SC
1550
2500
2550
PowerEdge Itanium Servers
PowerEdge Generation 6 Servers
600SC
650
1600 SC
1650
1655 MC
2600
2650
4600
6600
6650
PowerEdge Generation 7 Servers
PowerEdge Generation 8 Servers
800
830
840 (Gen I, II)
1800
1850
1855
2800
2850
6800
6850
PowerEdge Generation 9 Servers
850
860 (Gen I, II)
1900
1950 (Gen I, II, III) 
1955
2900 (Gen I, II, III)
2950 (Gen I, II, III)
2970
6950
PowerEdge Generation 10 Servers
T100
T105
R200
T300
R300
M600
T605
M605
R805
M805
R900
R905
M905
PowerEdge Generation 11 Servers
T110
T110 II
R210
R210 II
T310
R310
T410
R410
R415
R510
R515
T610
R610
M610
T710
R710
R715
M710
R810 
R815 
R910
M910
C1100
C2100
C6100
PowerEdge Generation 12 Servers
T620
R220
R420
R620
R720
R720XD
R820
M420
M520
M620
M820
C6220
PE R320 Rackserver
PE R420 Rackserver
PE R520 Rackserver
PE T320 Tower
PE T420 Tower
PowerEdge Generation 13 Servers
R430
R530
R630
T630
M630
R730
R730xd
R930
What Does a REAL Data Recovery Lab Look Like?