HP ProLiant Data & Disaster Recovery Services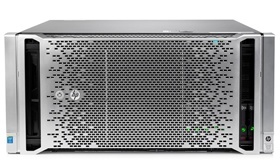 Of all RAID, NAS, and SAN devices available in the world, some of the best are made by Compaq and Hewlett. And while their servers are low-risk, in regards to the quality of hardware they use, data loss is somewhat an issue that can happen at any time irrespective of a system's integrity.
To speak to one of our specialists or to learn more about our services, call us on our freephone number 0800 999 3282.

Hewlett Packard Proliant Data Recovery Solutions
We provide both in-lab and remote recovery services for all HP server model types including NAS, RAID, and NAS devices. However, to know if remote recovery is possible, one of our engineers will need to have a word with you in an effort to evaluate the problem.
Through remote recovery, our engineers can log onto your server from a block level, and can fix any corruption that is preventing your server from properly loading. This way, you can remount your server and continue to use it as normal.
Depending on your situation, you probably may have to perform a couple of steps like switching out one of your hard drives, but the good thing is that most parts of the process will be handled by one of our recovery engineers. In more severe cases, we probably will have to copy all the data on your server and save it on another device to ensure data integrity. But not all cases are the same. In each case, our engineers will explain the steps to be taken once they have adequately assessed the situation.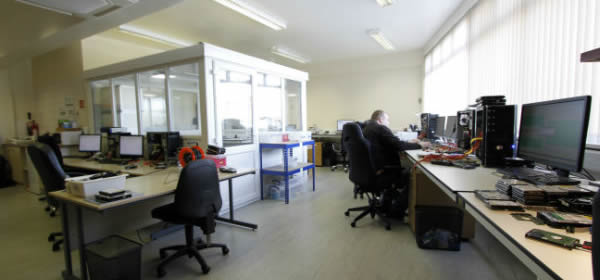 In cases where multiple drives have failed to the extent that your HP server's redundancy could not prevent data loss, in-lab recovery services will be essential. In such cases, our qualified engineers will work on the drives in a Class-3 clean and secure room. Clones of the failed drives are created before the server is rebuilt. This is performed at one of our workshops, as it is easier to work on rectifying the issue and to address any additional problems – making it easier for us to recover 100% of the data lost.
In each of these cases, extreme measures are employed to ensure that security and data integrity are preserved. All server cases are considered high-priority since downtime is one of the biggest concerns most clients have. Often, servers contain gigabytes of critical files business need to operate properly. As a professional company, we understand this quite well – which is why we do everything in our power to ensure that every server's fidelity is preserved right from the moment we open its case.
Hewlett Packard Proliant Error Messages
Depending on the system you have, a couple of error message could indicate data problems on a Compaq or HP server. Some of the most common error messages that can be resolved quite quickly include:
STOP 0x0000001E(0xc0000005,…)KMODE_EXCEPTION_NOT HANDLED – HP Proliant Data Recovery Server
This error usually occurs when the server's OS cannot boot and normally happens in ProLiant Systems running on Windows. In most cases, installing Windows Service Pack 6 containing a fix for the problem is enough to get the system up and operational. However, if the OS cannot boot up to the point where the pack can be installed, then your data will completely be inaccessible.
The Drive Fault LED is lit on an Integrity or ProLiant server
If there is an LED on your Compaq or HP server indicating a fault in one of your drives, you could resolve the problem by installing a new drive since HP servers are generally built with relatively high-fault tolerance. If there is more than one LED on, this might indicate that there a couple of drives have failed all at once. While multiple drives failing at one go is not something that occurs often, we still handle numerous related cases each year.
In such cases as these, in-lab data recovery is necessary. It is important that you don't attempt to re-initialize your server, be it a RAID, NAS, or any other type of device before first contacting HP customer care or a trained, professional and experienced data recovery engineer. Call 0800 999 3282 now and let's discuss all available options.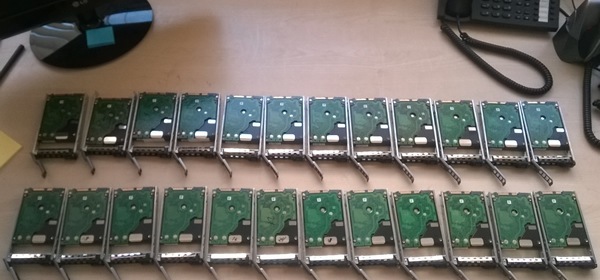 Unknown Error On Your Compaq or HP server (irrespective of the model)
If your Compaq or HP server presents you an unknown error, it's probably because it has been improperly installed or some of its hardware are failing.
As it is the case with drive failures, it is important that caution is exercised. Often, the solution is quite straightforward – running minimal configurations and slowly adding new hardware one at a time could make it possible to locate the root of the problem. This way, finding and replacing misbehaving hardware is easier. At the same time, it is important that you do not reinitialize your server's array as it could lead to data loss. Contacting us is advisable as our engineers could talk you through the entire process of fixing unknown HP or Compaq server errors, and will evaluate whether or not data recovery services will be needed. The good thing, however, is that most LED and unknown server errors can be fixed easily using our remote data recovery services.
The above are just some of the different HP server errors that can lead to data loss or that can make data inaccessible. HP servers can display many error messages, and it is impossible to list all of them here. The good thing though is that our trained and well-experienced engineers can effectively and quickly evaluate different issues your server might encounter. It is important that you write down any error codes you come across, as these codes play a vital role in determining which recovery method will be fast, efficient, effective and cost-effective.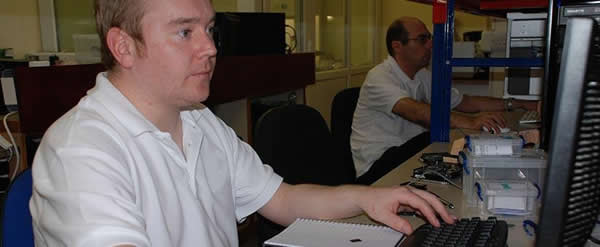 ProLiant Disaster Recovery Options
While your HP server's operating system does not adversely affect the likelihood of a full data recovery, it might affect the data recovery process, especially when it comes to remote recovery cases. For example, Integrity servers that running on OpenVMS or Linux usually require an engineer who's been specifically trained to work with such systems, and who has some experience when it comes to fixing issues related to data corruption on the said systems.
As such, it can be helpful to possess, and to provide us with as much system information as possible right from the initial stages of our data recovery efforts. It is, therefore, advisable that you collect as much info as you can before getting in touch with an engineer. This information should include file system, operating system, symptoms that preceded server failure, and the number of disks available in the server. If you don't have access to all, or some, of this information, then our engineers will ask you several questions and will guide you through a couple of steps that will make it possible for him or her to get the information he or she needs to provide a solution.
It is important that you do not operate your HP server once data becomes inaccessible. Considering that different issues can lead to data loss, depending on the state of things, running your server could result in overwritten data and further corruption, further complicating the recovery process.
To get in touch with us, please call us on 0800 999 3282 or email us for more about our HP ProLiant data recovery solutions.
We recover data from all Proware devices such as:
HP ProLiant ML100
HP ProLiant ML300
HP Proliant Data Recovery Hard Drive
HP ProLiant ML110 G5
HP ProLiant ML350 G5
HP ProLiant DL100
HP ProLiant DL300
HP ProLiant DL500
HP ProLiant DL700
HP ProLiant DL1000
HP Blade BL Systems
HP ProLiant SL2x170z G6 Server series
HP ProLiant SL170z G6 Server series
HP ProLiant SL165z G6 Server series
HP ProLiant SL160z G6 Server series
HP Integrity servers (all types and grades, including Blade and NonStop systems)
HP ProLiant Carrier-Grade Servers
HP ProLiant MicroServer
Older HP RAID, NAS, and SAN devices
What Does a REAL Data Recovery Lab Look Like?