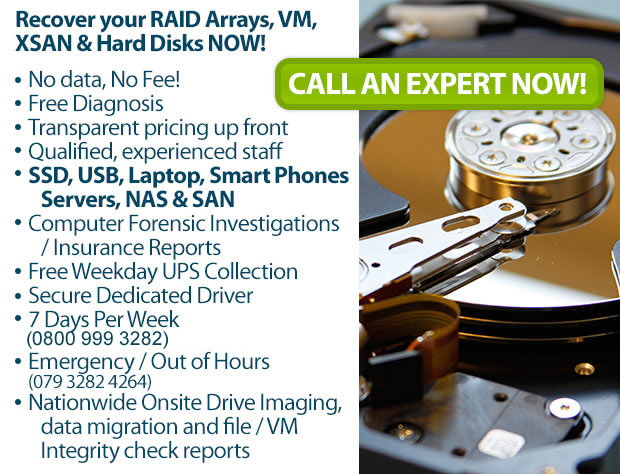 Hard Drive & Data Recovery Services in Birmingham
If you're based in the Birmingham area and looking to recover data and important files from any type of failed media device, such as a broken hard drive or a USB stick, then it's time to give Data Recovery Hospital a call!
With industry-leading data recovery rates and a fast professional service available at very competitive prices, your data really couldn't be in safer hands. We offer a free diagnosis by email or phone and can then either repair the device at our state of the art data recovery facility, or if time is of the essence, we can send a team of our expert engineers to your location in order to carry out on site diagnosis and recovery procedures.

Whatever the problem is, regardless of what caused it or what type of storage system is involved, we are ready 24 hours a day, 7 days a week to respond and restore your vital data to you so that you can get back to business as normal. Get in contact now using the contact information on the right.

Finding data recovery in Birmingham
Please call our local number 0121 4011 282 if you'd like a fast, cost-effective resolution to any problem you are having with accessing data for any reason. Same day collection and 90 minute collection are also available.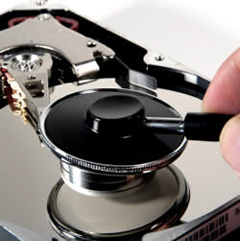 RAID recovery: Birmingham based businesses can find any data loss due to damage to their RAID array to be extremely disruptive. We can have respond to your data recovery emergency at any time of the day, any day of the week and to demonstrate our expertise in RAID recovery. Businesses caught in this situation should contact us immediately as in most cases we can have their RAID array operational again the very same day.
External data storage systems: We can help recover data for almost any external hard drive, USB memory stick or even personal devices such as laptops or iPhone devices.
Hard drive data recovery: Birmingham businesses rely on us to repair and restore hard drives that have been damaged by either mechanical or logical faults. Even if your hard drive proves to be unrecoverable, we can still restore the lost or inaccessible data and place it on a storage medium of your choice (USB memory stick, etc).
We offer most of our services on a no recovery no fee basis and our policy is to maximise the chances of recovery for all clients regardless of service level.
You will be informed on any updates by either by email or personal phone call or you can call our dedicated Birmingham data recovery support number on 0121 401 1282 or use the online contact form.



I relied on my Iomega hard drive as a normal desktop back up. When I couldn't access this (and therefore lost hundreds of files and pictures) I contacted R3. I found them very friendly, yet professional – they kept in touch with me throughout the process. I have yet to receive my new hard drive with recovered files, but somehow, do not doubt their efficiency. As an individual you will have to weigh up the value of recovery of lost files or the permanent loss of them all – I was prepared to go ahead with the recovery as much family history had been stored along with years of holiday photos.
John Bailes

The service our customer received from R3 was extraordinary. Professionalism, great communication, very fast recovery of a 3 disk RAID0 array of all the data following a hardware failure of one of the drives. Having physically visited their operation to collect the recovered data I was pleasantly impressed with their laboratory, security and facilities in general. I would thoroughly recommend their services to anyone who has a need for the recovery of important data. We're very grateful for their fantastic and fast work.
Andrew Foster

Thanks so much for the great service provided by R3 data Recovery, they were quick efficient and provided an excellent door to door service. I would certainly recommend their service to other people. Andy and the team went out of their way to ensure, they retrieved the information I needed and returned it to me promptly many thanks guys.
Susan


Next: Leeds



What Does a REAL Data Recovery Lab Look Like?