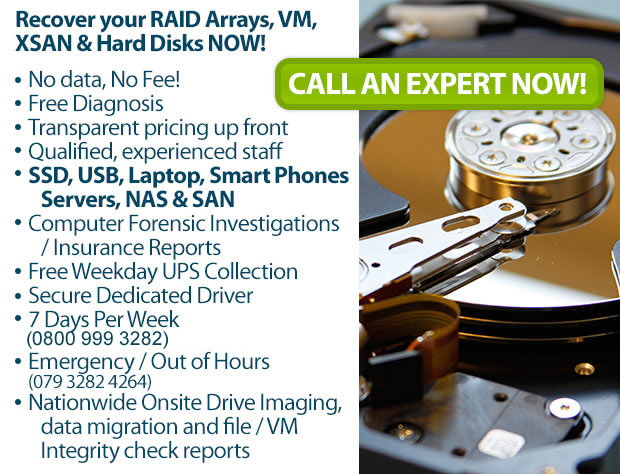 Hard Drive & Data Recovery Services in Salford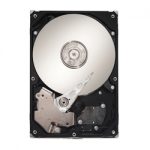 Salford based businesses and individuals have been relying on the Data Recovery Hospital for years to provide them with swift solutions to data loss issues. We have a sterling reputation for putting people back on their feet by reuniting them with their important data after their storage device suffers a significant setback.
We realise that if your storage system suffered either mechanical or logical failure and leaves you without access to your critical data, both your personal and professional life can be seriously affected. That's why we make sure that we're on call to help 7 days a week to offer speedy data recovery services, regardless of the severity of the problem.

You can either bring your device in directly to us, or get in touch via phone or email through our contact us section to arrange for its repair.

Salford Solutions for Data Loss Issues
Hard Drive Recovery Salford: Our engineers have the tools, techniques and top class clean room facilities that are necessary to perform the complicated and delicate data recovery operations that they handle on a daily basis. With combined experience that amounts to decades of data recovery, there's very few problems that these guys haven't encountered. Neither do we rest on our laurels. In order to make sure that they can restore lost or corrupt data to your hard drive, our engineers are constantly developing new tools and custom techniques to improve the way they put data back in its rightful place.
External Devices: We also fix external devices that have lost access to their stored data. These include USB sticks, camera memory cards, certain mobile devices amongst others.
RAID Recovery Salford: We're on hand to respond quickly and effectively to RAID system failures and have you back up and running within 24 hours.
My memory stick malfunctioned which contained lots of information including two books I am currently writing and hope to publish. For me a major disaster all that hard work of researching and writing over the last year now unable to retrieve. I contacted Andy R3 Data Recovery and received an excellent service – I now have all my information back on a much better quality memory stick. Thank you for providing an efficient and exceptional quality of service and I strongly recommend Andy and his team in providing a much needed service.
Cllr Shaun Lyons

I lost all my precious photos on my iphone and looked around for a data retrieval company to recover them. I found one that didnt charge a diagnostics fee, and who were confident they could recover my photos. They had my phone for 10 days, and I had to chase them each time for an update. They couldn't recover the photos so I asked for my phone back. I then found R3, who had my phone for only 2 days when they recovered all the photos in the most professional and efficient way – and got them to me with no trouble at all. I highly recommend them – don't go to the cheapest company who promise the world – if you need anything recovered – I recommend R3!
Vicki Hinks

Excellent service. Both friendly and professional. Immediately put my mind at ease and then recovered my data within a week.
Stephen Sutcliffe


What Does a REAL Data Recovery Lab Look Like?