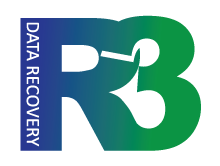 Andy Butler announces increased imaging capacity to enable more drives to be recovered every month.
This new round of investment helps R3  to improve throughput and efficiency at both it Northern and Southern labs. The addition of a further 10 state of the art imaging units and a further 6 data validation systems along with increased recovery server storage capacity has added a further 30% production capability and is designed to restore the flexibility a data recovery lab needs to provide all service levels and client needs at a price to fit their budget.
After a summer of running at full capacity after regional power outages and adverse weather used up spare capacity normally set aside for emergency and budget services this significant additional investment is designed to ensure R3 remains the first choice for data recovery in the UK.
Andy explains how his data recovery labs maintain their class leading success rates whilst helping keep costs down.
"Tthe problem with data recovery is some situations may require a data recovery engineers time for a matter of minutes or a few hours restoring a failed drive to an operational state, but what sets our complete service apart is the quality of the recovery and our willingness to go that extra mile for our clients even on budget services , overnight or at weekends.
By automating the bad sector recovery and imaging / cloning aspect of the data recovery process we maximise the efficiency  of the technicians and maintain true low cost, industry leading success rates."
R3 offer upfront data recovery fees which are often undercut but never undersold. "around 10% of our monthly throughput are drives which were sent to other companies which quote a sub £150 price for work which cannot be done properly on a regular basis for less than £250 "
The problem with cheap data recovery is RISK – software only operations fail to protect the clients drives and in doing so put the data at risk and reduce the chance of a full recovery or the quality especially for drives with unreadable sectors.
"By adding extra imaging capacity we bring back the spare production required for emergencies to ensure our 6,12,24 and 48 hr turnaround options are met even on weekends and that we chase every bad sector and in doing so get data back that has been declared unrecoverable or corrupted."
During early September  there were 6 emergencies carried out over a Friday lunchtime to Sunday morning including a failed RAID5  server brought in from Paris which was won on a recommendation from another company R3 had saved from a data disaster during early 2013.
"We coordinated collection from Paris at lunchtime, it was in our lab for 9pm that night and enabled our duty technician to image 4 drives, solve the corruption caused by bad sectors and then copy the  recovered data back to a drive  for uploading from the clients UK data center, then restored on newly provisioned servers ready for business opening in Paris  8am the following Monday.
"This additional capacity ensures our corporate, larger organisation SME's with business/production critical data is restored quickly, cost effectively  and enabled R3 to use this spare capacity when not needed for emergencies to offer budget services and staged payment terms for those who need our success rates but are willing to wait longer for their data.
Andy Butler has helped many thousands of business and consumers and acts as operations manager to the R3 data recovery engineers. He is passionate about data recovery and helps keep production on target out of hours and at weekends as well as offering free consultations 7 days per week.
R3 Data Recovery is retained as preferred supplier to Universities, Governmental departments, broadcasting and film production companies, legal firms, architects, car manufacturers, steel producers, banking and foreign exchange providers as well as to hundreds of small to medium businesses through IT Support companies throughout the UK recovering data from all kind of media types: from hard drives to memory sticks, servers, smart phones and VM's / VHD's.
R3 also help home users, students and the self employed – Give Andy and the team call on 0800 999 3282 or 0333 123 3282.
What Does a REAL Data Recovery Lab Look Like?