VMFS Data & Disaster Recovery Services
R3 specializes in virtual machine repair and offers the best set of recovery options for your VMFS systems.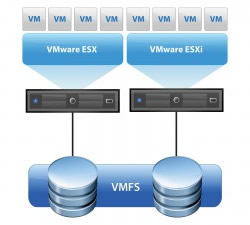 Today both storage and web servers are set up through virtualization more and more often. VMware is used by many complex systems employing VMFS, a clustered file system. VMware is capable of organizing truly immense amounts of data. When coupled with a good RAID array, VMware makes an excellent storage solution for businesses of any size.
VMFS isn't foolproof, though. Data can be lost due to a number of causes, including these:
Failure of multiple hard drives or solid-state drives
Rebuild or re-stripe failure
Accidental deletion and other forms of user error
I/O operation failures in a specific virtual machine
File corruption or inaccessibility
Because a system that combines VMFS with a RAID array may store disk images for hundreds of virtual machines, data loss represents a potentially catastrophic failure. This is why R3 specializes in providing quick and reliable data recovery services for VMware systems. This includes systems with files organized via VMFS.
We have more security credentials than any competing data recovery company and we've handled countless virtual data recovery cases successfully. We can give you complete confidentiality and outstanding recovery rates. R3 offers several service tiers depending on the turnaround speed you need, including emergency services which are available 24/7/365. Our turnaround on emergency cases is under 48 hours on average.

You can start getting a handle on your data loss by contacting our customer service specialists for a no-risk media evaluation today.
Recovering VMFS Data With Advanced Technology
Successfully recovering data from a damaged virtual system requires extensive VMFS experience, and that's simply not something that every data recovery engineer has. Virtual server repair requires specialized handling; every case is different. Physical drive damage and severe virtual machine corruption are particularly delicate.
At R3, VMFS data recovery is one of our strongest skills. We task dedicated and experienced engineers with each new VMware case. They use their experience with clustered file systems and VMFS in particular to build a recovery plan that's suited to the particular needs of the case. Careful media handling procedures are followed strictly to maximize the odds of successfully recovering as much data as possible.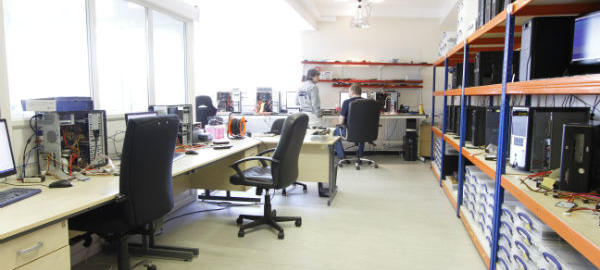 We handle plenty of NFS systems in addition to our VMFS work. R3 is fully capable of maintaining the highest levels of security and confidentiality while working with virtual servers and RAID devices. We see plenty of the most common VMFS RAID configurations (e.g. RAID 5, RAID 10) as well as more complex setups. Our full spectrum of services — including remote service and 24/7/365 emergency service — is exceptional in the data recovery industry.
Steps You Should Follow After A VMFS RAID Failure
An unexpected RAID failure can mean downtime and serious productivity losses for your business. To improve your chances of a full recovery, you should take immediate steps to limit the damage to your system.
The first step after you detect a failure is to power off your RAID array. No matter how badly you need to get data off the array, do not try it. Rebuilding a damaged RAID can cause further damage, especially when system restoration has already been attempted. Your next step should be to contact us and schedule a no-risk evaluation. We'll get to work quickly, minimizing your downtime and data losses.
No one in the UK does a better job of recovering RAID data and repairing VMFS file systems than R3. We have extensive credentials and customer-friendly pricing. Our diagnostics are risk-free and we charge no fees in cases where we cannot recover any data. If you'd like more information or want to schedule an evaluation, call R3 at 0800 999 3282.

What Does a REAL Data Recovery Lab Look Like?